Love Island's Leslie Golden Explains Why She Left The Show Early
"I did not get kicked out for doing p*rn." 
Ashley Hoover Baker August 2, 2021 8:43am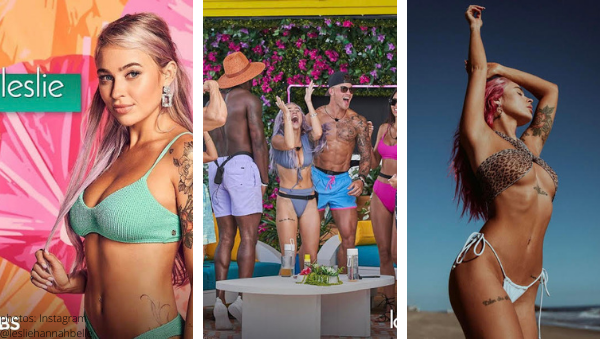 After a mysterious disappearance, Leslie Golden, the lavender-haired hottie from season 3 of Love Island USA, came clean regarding why she left the show early.
When host Arielle Vandenberg encouraged LI fans to vote for their favorite boy and girl on the island, many noticed Leslie's mug didn't appear on the app.
Fast forward to the elimination episode- no Leslie.
The model/influencer took to her Instagram stories to explain her premature departure.
Personal reasons:
Though many fans thought the dynamic that Leslie and her fellow newbie, Genevieve Shawcross, brought to the show after the infamous Casa Amor challenge may have been a factor in her exit, Leslie assured her fans "it's not that deep."
She even gave a pinky promise, so she must be telling the truth…
No drama:
Alexa, play 'No More Drama' by Mary J. Blige.
Leslie was self-reflective when she explained, "I know I appeared like I'm drama, but that's not just my vibe."
"I know how it seems, but I have no beef with anyone there."
"[My exit] has absolutely nothing to do with anyone in the villa."
What about the adult video rumors?
ICYMI, Leslie has a subscription-based website, lesliehannahbelle.com that offers 'private' content. She clapped back at skeptics saying, "Y'all are reaching."
"I did not get kicked out for doing porn."
Which Islanders would you like to see win the cash prize? Drop names in the comments!
---