Erika Jayne And Lala Kent Celebrate Each Other's Strength
The Real Housewife of Beverly Hills and the Vanderpump Rules star recently bonded at dinner.
Staff October 26, 2023 9:41am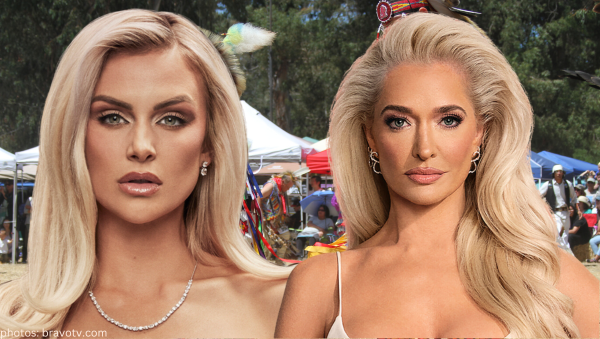 Introducing the Bravolebrity crossover I'm not sure we're ready for …
Real Housewives of Beverly Hills star, Erika Jayne and Lala Kent from Vanderpump Rules have recently taken a step in becoming closer.
During an appearance on Access Hollywood's Housewives Recap, the controversial RHOBH star revealed she and Lala "had dinner together not too long ago."
"It was our first time to really spend time together," continued Erika.
She was shown a clip of Lala speaking about her from a recent appearance she made on Housewives Nightcap regarding Erika and her estranged husband, Tom Girardi.
Lala was able to empathize Erika's uncomfortable position. "I just think that what she has been going through and having to face what she faces and she's in the court system so she has to bite her tongue."
"She has to come across a certain way, continued Lala. "People who have not been in that position look at her a certain way."
"When I was watching a couple seasons ago I kind of understood. She's catching the wrath of all these viewers."
"But I know what's going on behind-the-scenes and she's not given a choice," Lala explained.
Erika "still freaking shows up. She still walks around with her head held high. She's killing it in Vegas. I just admire a strong bitch," declared Lauren from Utah.
Once Lala's clip concluded, Erika praised the Pump Rules personality.
"She's very smart, this one," referring to Ocean's mom.
Erika added that Lala is "wise beyond her years and she's gone through her own hard time."
"I admire her strength, too."
View this post on Instagram
Drop your thoughts on this budding friendship in the comments.
---