Lady Gaga Accused Of Hijacking Heidi Montag's Pop Music Career
The Hills alumni blamed 'her bad romance' with Mother Monster over the song 'Fashion.'
Ashley Hoover Baker March 24, 2022 2:15pm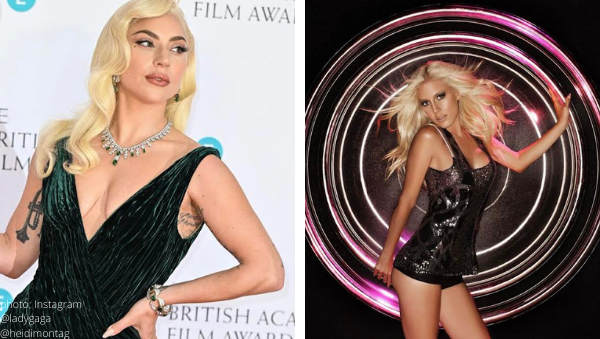 YOU KNOW WHAT YOU DID!
The tables have turned since the iconic feud between The Hills alumni Heidi Montag and Lauren Conrad.
This time around, LC isn't upset with Heidi. Instead, Mrs. Spencer Pratt is the heated party.
The plot twist?
Heidi has beef [pun included] with Grammy and Academy Award winner, Lady Gaga.
Yes, you read that correctly…
"People are, like, 'I love Lady Gaga,' and I'm sure she's great, but I have not had the best encounter with her."
What did Lady Gaga do?
Heidi made an appearance on  "The Unpopular with Jacques Peterson" podcast and revealed how Mother Monster allegedly sabotaged her pop music career.
Long story short:
Music producer, RedOne, had high hopes for Heidi's career pivot from reality tv to pop star. RedOne also worked with Lady Gaga, who wrote the track, Fashion.
According to Heidi, Lady Gaga agreed "sure, she can have that song."
All was good until the song was requested to be featured in the film Confessions of a Shopaholic.
Heidi claims Gaga said, "'No, I'm pulling that song, and I'm recording it. It's not Heidi's anymore.'"
It doesn't end there:
The former star of Marriage Bootcamp claimed Gaga posed an ultimatum to RedOne.
Allegedly, the A Star Is Born actress would not work with the producer if he continued to collaborate with Heidi. Of course, the producer chose the superstar over the reality tv star.
"He was like, 'I'm sorry, she's my writing partner for huge things.'"
… huge things like the bangers Poker Face, Just Dance, and Bad Romance.
Do you believe that anyone -besides Heidi Montag- believes she was a threat to Lady Gaga's career? Drop your opinion off in the comments!
---