Kourtney Kardashian Responds To Pregnancy Claims After Posting Unedited Photos Of Her Body
(For the record- Kourt's never looked better.)
Ashley Hoover Baker September 18, 2022 12:09pm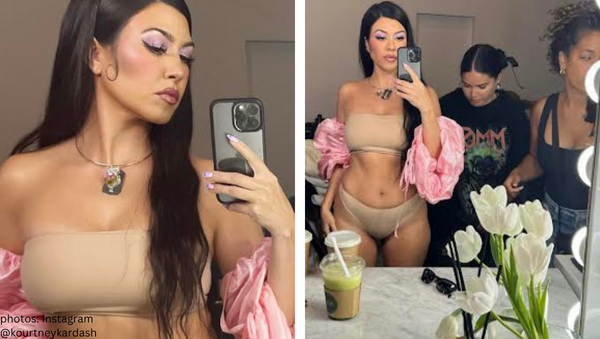 Kourtney Kardashian Barker responded to a comment posted to her Instagram page of her promoting Lemme Live nutritional supplements while wearing Skims, created by her little sister, Kim Kardashian.
Mama Kris and her cross-promotions…
First things first:
Y'all. Kourt looks amazing.
It's not every day a Kardashian/Jenner posts an unedited photo. **Never forget Khloe Kardashian's bikini-gate**
Lemme just say (pun intended) that this is the influencer energy I'm looking for.
Kim, Khloe, or Kylie [Jenner] would never…
View this post on Instagram
That photo:
In addition to oodles of body positivity on Kourt's post, there were several followers who thought Kris Jenner's oldest daughter may be pregnant again … based on how she cradled her hand to her stomach.
An IG user asked, "Wait a minute did I miss that she's pregnant?"
Kourtney responded from her verified account, "Nope, but you're missing a woman's body."
Living for Kourt's unedited body pics & her clap back to haters🔥💯 pic.twitter.com/XxymUSX0Z7

— OnThisDayENT (@OnThisDayENT) September 18, 2022
Do you think Kourtney's frustration is an effect of the family's infamous use of photoshopping and  filters? Sound off in the comments.
---