Kenny Barnes And Kelly Chase Spill The Tea On What Was Real And What Wasn't On Love Is Blind
The then-fiances open up about what really happened during the experiment.
Ashley Hoover Baker March 5, 2020 3:20pm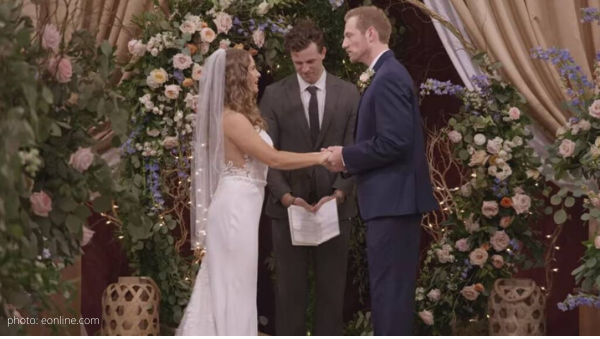 Kenny Barnes spilled the tea on what was real and what wasn't on Netflix's Love Is Blind. Kelly Chase's then-fiance opens up about what really happened between the 'pod' and the altar.
The former couple was on the same page about not tying the knot:
Kenny spoke with People to set the record straight after getting left at the altar. "We were adamant about we're not going to get married." He continued, "And really, the engagement was just to extend the experiment. And we were both committed to that."
Kenny spills the tea on a sneaky edit:
Instagram's @loveisblindteaa posted a screenshot of a Kenny's response to a social media post. "For the record, the clip of me saying "She's the woman I'm supposed to be with" was recorded in response to a hypothetical question asked / recorded weeks prior to this day."
They weren't on the same page after the wedding:
"I thought that we were going to continue dating, because that was communicated between us," Kelly told People. "And then it was our last filming day, and he had a conversation with me like, 'Hey, I think I am not emotionally available right now. I need to take some time apart from you.' I felt very rejected, like, 'That wasn't the plan. What the heck?'"
Kelly got ghosted:
"A week or two later, we hadn't talked," the health and empowerment coach explained as she held back tears. "I'd just talked to him for six and a half weeks straight, and then I didn't talk to him. So it was like I lost someone. It was hard."
Kenny explained his actions:
"I just needed to focus on myself," the fan favorite detailed. "We'd been so adamant about we're not getting married, we're really not engaged. We'll pursue, dating afterwards, but to be candid, it was in that moment, because of the stress that it caused my friends, my family, also hers, it was like, I was just being cognizant of this is all real, these emotions are real. What we went through was a real experience. But life is way more complex than this. And I need to get my framework right."
Are you surprised by how Kenny and Kelly's story ended? Drop your opinion in the comments!
---