Kelly Dodd's Husband Rick Leventhal Defends Dressing As Alec Baldwin On The Set Of Rust For Halloween
"In no way was I trying to offend anyone, except Alec Baldwin."
Ashley Hoover Baker November 1, 2021 3:22pm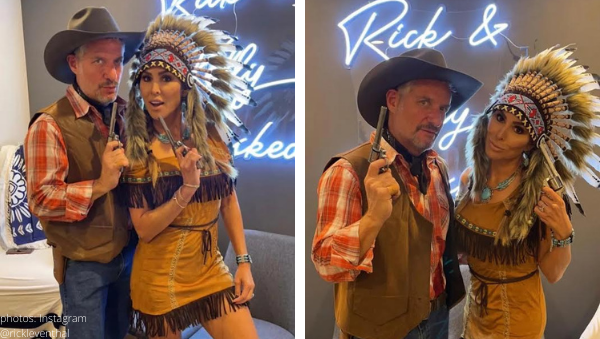 Doing the most by proving to be the least…
Former Real Housewives of Orange County star, Kelly Dodd, managed to out-Dodd herself by making an active choice to mock the Indigenous on Halloween, while her husband, Rick Leventhal, managed to out-cringe his wife by dressing as Alec Baldwin from the set of 'Rust.'
Talk about a match made in hell.
The costumes:
Since the fired RHOC star learned she is 30% Native American thanks to a DNA test, Kelly wore what she described as a "tribute & celebration" of her "Native American heritage" which included a mini skirt and headdress that is not typically worn by women within America's indigenous culture.
When referring to his own costume, "I just decided to be [Alec Baldwin] at the last minute," the former Fox News correspondent told Page Six in an exclusive interview.
He clarified that he, too, was going to dress as a Native American, but the tragic news from the set of 'Rust' caused his costume choice to pivot.
View this post on Instagram
Not apologizing:
Rick clarified, "In no way was I trying to offend anyone, except Alec Baldwin."
"He's a jerk and deserves all the heat he's getting."
Kelly told the tabloid, "People are way too sensitive."
Unaffected AF:
"If we analyzed every costume for who might be offended by it, there would be no Halloween anymore."
Rick doubled down by asking, "Is [15-year-old Jolie Dodd dressed as a maid] offensive to the service industry?"
In case you would like information on the cultural appropriation of Halloween costumes…
Want to stay up-to-date on all things Real Housewives?
Check out Zachary Reality for the latest from Bravo, Bachelor Nation, and beyond.
What are your thoughts on the Leventhals' costume choices? Sound off in the comments!
---