RHOM Mistress Katharina Nahlik Jokes About How She Got Engagement Ring From Lenny Hochstein
Lenny's next ex-wife quoted 'Wet Ass Pussy' in her IG caption.
Staff August 4, 2023 2:06pm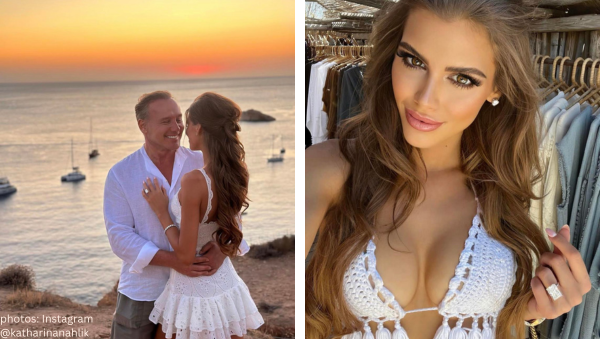 The Real Housewives of Miami husband, Lenny Hochstein, put an engagement ring on it [Katharina Nahlik] while he's still married to Lisa Hochstein. 
Now, the mistress is dishing on how she 'earned' the rock that she got.
Just after the famed plastic surgeon and his future bride made their engagement Instagram official, Katharina quoted Cardi B and Megan Thee Stallion's song, Wet Ass Pussy to share how her relationship with the father of two progressed to an engagement in such a short time.
Partnered with a selfie, the Austrian model wrote the caption, "I don't cook, I don't clean, but let me tell you how I got this ring 😇💍."
View this post on Instagram
Bravoholics were quick to rush to Lisa's defense in the comment section of Katharina's post.
On your knees obviously 🍌

Butt stuff

BJs for PJs! …..

Being hot. That's how. It's no big secret

You must have that FIRE punanny💯🔥🔥🔥🔥🙌

Lol at least she admits it 😂
What do you think of Katharina's caption? Drop your opinion below.
---