Kanye West Allegedly Spreading Rumors About Pete Davidson's Sexuality And Personal Health
This isn't the first time Ye showed disdain for the SNL comedian.
Ashley Hoover Baker January 28, 2022 10:24am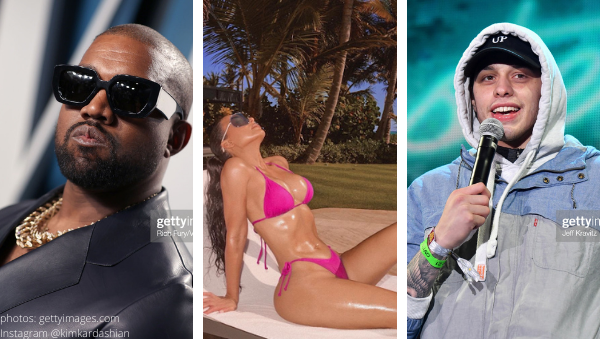 Self-proclaimed devout Christian rapper Kanye 'Ye West is allegedly spreading unfounded rumors about his estranged wife's new boyfriend, Pete Davidson.
Pete's name on Kanye's lips:
On a Twitch stream, commentator DJ Akademiks broke down the word on the street regarding what the rapper has allegedly been saying regarding Kim Kardashian's new boo.
"This is real talk, Kanye has been telling anyone within an earshot of himself, he's trying to spread a rumor that Pete Davidson has AIDS. I'm telling you this is a fact. I've heard this from eight people. He's telling everybody!"
"I'm telling you, this is a fact. Bruh, if you gotta spread a rumor that the [n-word] f-ckin' your wife got AIDS, you burnt out, bro. Wrap it up. It's over."
Throwing shade:
This isn't the first time Ye showed disdain for the SNL comedian.
Earlier this month, Kanye workshopped a song with the lyrics, "God saved me from the crash, just so I can beat Pete Davidson's ass," referring to a car accident the rapper survived back in 2002.
According to Page Six, "the 'King of Staten Island' star found West's lyrical threats 'hilarious,' but it's unclear how he's feeling now."
Check out the Zachary Reality podcast for the latest from the Kardashian/Jenner family and so much more!
Real talk. Is Kanye ok? Sound off in the comments.
---