Jeff Lewis Is Flipping Out Over Daughter Monroe's School Situation
Update- The hot-headed reality star shared his daughter's application to a private school was denied after his infamous party.
Ashley Hoover Baker January 1, 2022 5:00am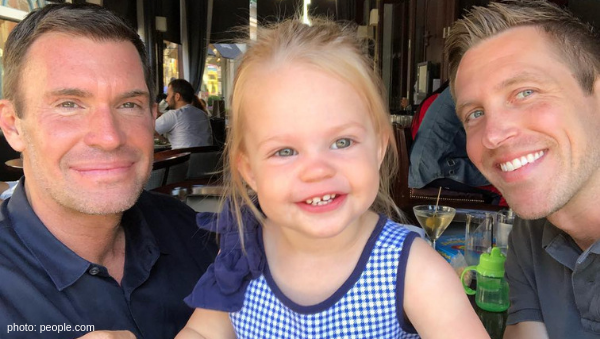 ________________________________________________________
Updated post 1/1/2021 @5:00 
Jeff Lewis is Flipping Out, yet again, after his daughter's application to a private school was denied.
A party "worth dying for:"
Jeff received Monroe's bad news after hosting a super-spreader holiday soiree at former RHOM star Lea Black's home that infected the former Bravolebrity and at least a third of its 30 guests, including members of Jeff's staff and Shahs of Sunset star Mercedes 'MJ' Javid.
"We've heard back from one school, and they got back to us right away. They said, 'We know who you are. We know who Monroe is and… we are not interested in Monroe.' That's what they said."
Bigger problems:
Jeff and his ex/Monroe's other dad, Gage Edward, 36, share concern that the press around Jeff's party will affect Monroe's "four or five" other private school applications.
Reflecting back on the first rejection, Jeff wondered, "Why would you deny her? She has so much to offer to that school."
"She's a f*cking angel."
**Best wishes being sent to Monroe!**
________________________________________________________
Original post 09/17/2019 @16:29
Hot-headed former Bravolebrity, Jeff Lewis, is shocked after his daughter, Monroe, was expelled from pre-school!
How does a pre-schooler get expelled? By having 'mouthy' (pun intended) Jeff Lewis as a father, of course!
The prestigious Montessori preschool has an opening since Jeff and his ex, Gage Edward, have been forced to find a new school for their two-year-old daughter.
The decision was made by school administrators after they received complaints about negative comments Jeff made about the elite school on his Sirus XM show. Jeff discussed the school's 'Back to School Night' for parents and read two internal emails from parents mocking them.
"Apparently I've mentioned a few things about the school on air." The house-flipper continued, "I take full responsibility. … I am really, really sorry. I feel terrible about what happened. I know how it has affected Monroe. I will never do this again."
According to People.com, Jeff begged the headmistress from Montessori to reconsider expelling his daughter, but he quickly learned there was no hope. That's when Jeff changed his tune….
Jeff explained on Tuesday that this experience has taught him that Montessori wasn't the right fit for his daughter. "I picked the wrong school," Jeff said trying to save face. "Next time, I'm going to trust my gut. I felt like the school was too regimented, too structured. I think it's not a college prep course. It's preschool."
He didn't stop there. "Everyone takes themselves so seriously at that school." He continued, "I think these people are arrogant, they're pretentious… I don't want Monroe to be in a strict school with overachievers and massive homework. She has her whole life to be stressed out. It's preschool, let her be a kid and have fun."
Do you think Montessori made the right decision? Sound off in the comments!
---