Is DJ James Kennedy Friends With Tom Sandoval Again?
James looks chummy with the 'poo-poo head' who slept with his former fiancé.
Ashley Hoover Baker July 26, 2023 7:48am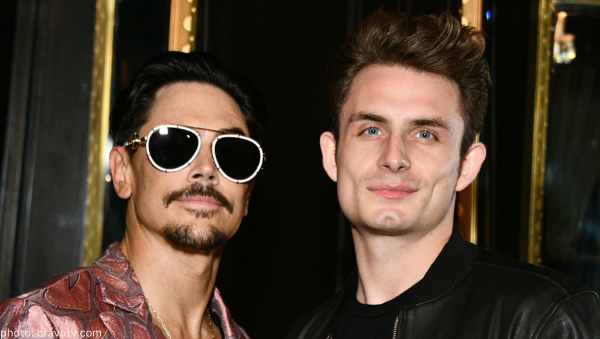 Has peace been restored within the Vanderpump Rules cast?
After the 'Scandoval' that rocked the world – Tom Sandoval cheating on his life partner, Ariana Madix, with her 'close friend,' Raquel Leviss – it appears that DJ James Kennedy is chummy with the disgraced Schwartz & Sandy's co-owner again.
Never forget that James was once engaged to Raquel. Tom even helped finance James' Coachella-inspired proposal party called 'Rachella' before the DJ ultimately called him a 'poo-poo head' at the season 10 VPR reunion. What a time to be alive …
James and his girlfriend, Ally Lewber, sat across from Sandoval and two girls wearing trucker hats (2003 unbearable, iykyk) at SUR while filming for season 11. The fivesome smiled and laughed together in a video captured by Instagram's @thezenblonde.
View this post on Instagram
The VanderVerse was shooketh as they took to the comment section.
"Yeah I'm not feeling this. 😏 This is just weird and I don't understand"
"Here comes the forgiveness train – to be fair they've forgiven others for cheating also (yes I know it was baaaad but it's not for us to decide who should forgive & who shouldn't)"
"Is that Kristen Doute's crazy friend?"
"It still blows my mind that at the reunion Schwartz told Katie if she didn't stop saying not nice things about Jo that she'll get a cease-and-desist. She said a couple of things, yes, but Schwartz jumped in with that quite quickly, when he never did anything like that for her."
"Wow wow wow. Jk being friendly with Sandoval. I dont know how I feel about it."
"Sandoval forgot all about Rachel real quick!"
Do you think James is moving on with his friendship with Sandoval or was this just for the camera? Drop your opinion below.
---