Eileen Davidson Returns To RHOBH Amid Denise Richards And Brandi Glanville Affair Scandal
"If it happened, you had to know it would come out."
Ashley Hoover Baker June 22, 2020 9:33am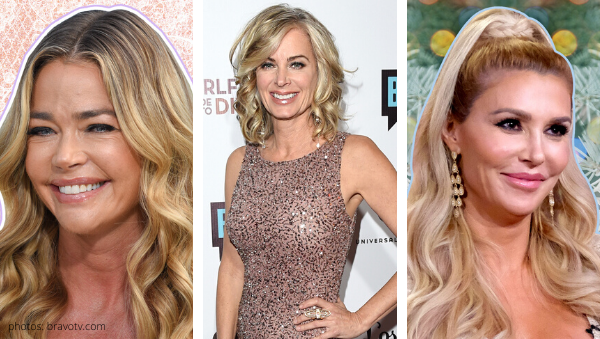 Real Housewives of Beverly Hills alumni, Eileen Davidson, chatted with Bravo's Daily Dish podcast to weigh in on her time on Bravo, her on-screen struggle with Brandi Glanville and the alleged affair between Brandi and Denise Richards.
What is the hardest part of being a real housewife?
Eileen explained that the hardest part of being a housewife is not knowing what to expect. When the seasoned actress is asked if RHOBH is a scripted show, she jokes that she would have lasted much longer if it was. "It was very difficult emotionally for me and it was just really hard not knowing what was going to happen."
What was your reaction to Brandi throwing wine at you?
The seasons 5-7 star detailed how she felt manipulated, as she was promised that this type of behavior would not be an issue when she was being approached to do the reality tv show. "I had only been on the show a couple weeks."
Eileen noted that the producers called her and she didn't answer. "Screw that. This is everything I was told it wouldn't be." Eileen then added that she was close to quitting in that moment.
What do you know about the alleged Brandi and Denise affair rumor?
"I really don't know what happened. I don't know if it happened."
Eileen has empathy for Denise. "I honestly feel for her. Because even though you sign on for this, it's not easy. And I'm not sure if she was prepared for all of this, you know? I feel for her. But on the other hand, if it happened, you had to know it would come out."
Watch the teaser for the second half of RHOBH season 10 here!
Need more RHOBH to hold you over until the mid-season hiatus is over?
Check out the weekly RHOBH breakdowns on the On This Day Entertainment podcast. Here's the most recent episode with Behind the Velvet Rope's David Yontef .
Which of the former housewives' RHOBH appearance are you most excited for, Eileen, Faye Resnick, Kim Richards, Adrienne Maloof or Brandi? Drop names in the comments!
---