Chrishell Stause Clarifies Marital Status With G Flip
"I'm not out here to try and prove to people how serious it is or how meaningful it was."
Ashley Hoover Baker May 29, 2023 7:44am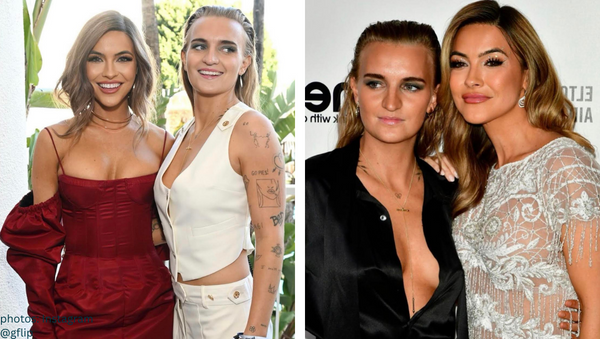 Revised post 5/29/2023 @7:44
Selling Sunset star, Chrishell Stause, was a guest on SiriusXM Hits 1 LA and dished on her May 10th Las Vegas wedding with Australian rapper, G Flip.Although their marriage may not be "legal," the Vegas ceremony symbolized the love that the two share and their promise of a life together.Amid tabloid rumors that no marriage license was filed, Chrishell confessed why they didn't make it officially official.

"To be honest with you, we knew if [got married legally], we would also hear people say, 'Oh, you know, G wants a green card.' Where it's like G already has a passport, a visa."

"It doesn't matter what we do for the rest of our lives, we're gonna hear criticism, so we decided we are always just gonna do exactly what we wanna do and I'm not out here to try and prove to people how serious it is or how meaningful it was."

Chrishell clapped back on her haters. "If you don't believe it, I don't care and that's the best part. I don't need your approval."
Original post 5/20/2023 @9:09
Though the couple appeared to tie the knot, TMZ did some digging and learned there are "still no marriage records for the couple in Clark County, Nevada."
Sources confirmed Chrishell and G Flip's ceremony was just for show and not legal.
The actress-turned-real-estate-agent-turned-reality-star and the rapper "plan to have an official wedding ceremony somewhere down the line."
The couple began dating after Chrishell called it off with her boss, Jason Oppenheim. 
On the other hand, People reported "The Netflix star tied the knot with the Australian musician in a secret ceremony in Las Vegas" on May 19th. 
"I think that it's a balance thing on a show like this, of what to share and what not to share, and I think that it is important that we are open and we shine a light on a love that I think is so beautiful," Stause said. "But that being said, it's also important to keep some things for us."
The Days Of Our Lives alum added that the secret Las Vegas ceremony was "imperfectly perfect" and they plan to celebrate their love yearly.
"We promised we're going to just do it every year, whether it's another Vegas situation or somewhere else. But just every year, something around the same time, spontaneous, fun, get everybody together and every single year, just celebrate."
"It was a very small group there with us and some friends and family watching on a live stream."
Do you think Chrishell and G Flip got married, or was it as faux as Kourtney Kardashian and Travis Barker's Vegas nuptials? Drop your opinion below.
---