BiP's Genevieve Parisi Calls Aaron Clancy Out For Having Two Girlfriends When He Went To Paradise
"That is why it makes so much sense he needed to break up with me."
Ashley Hoover Baker December 6, 2022 6:37am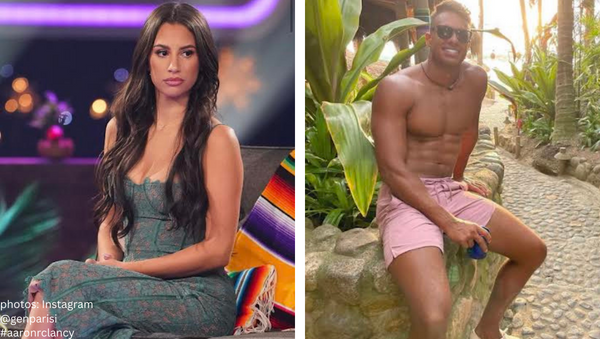 During an appearance on the Almost Famous podcast, Genevieve Parisi dished to hosts Ben Higgins and Ashley Iaconetti about what REALLY went down with her Bachelor In Paradise boyfriend, Aaron Clancy.
NOT here for the right reasons:
Genevieve explained that she learned Aaron was never planning on leaving Mexico with her, or anyone else for that matter.
"Aaron had a girlfriend before leaving for Paradise … and not only one, but two."
Gen elaborated, "One of them wouldn't stay with him while he went on Paradise and the other one said she was going to talk to him when he gets back about the situation."
The season 26 Bachelor contestant came to the conclusion, "That is why it makes so much sense he needed to break up with me."
Keeping her head up:
Upon understanding that Aaron's motivation was to stay in Paradise as long as possible, Genevieve chose to see the positive.
"I'm so happy this stuff came out because I have clarity."
"I actually talked to the girl who isn't with him anymore. She's so sweet. It's kind of crazy hearing her stories. He was telling the same thing to both of them … the other was a friend and not to worry about it."
According to Gen, the women DM'ed one another and compared their timelines of dating Aaron only to learn that they overlapped.
What about Aaron?
Gen dished on Aaron's current relationship status. "They were vacationing somewhere last year the girl he's still with. They have been boyfriend and girlfriend."
Regarding Aaron's master plan, Gen acknowledged that he "did go and come back to her, so the plan worked."
Aaron has yet to comment on the revelations from Gen's interview.
Watch the interview for yourself!
View this post on Instagram
Did you think Aaron was ever in it for the right reasons or is he thirsty for fame? Sound off below.
---