Ryan Fox "Had Zero Time" To Prepare For The Bachelorette With Michelle Young
"There [are] notes my friend gave me, and then she's reading my personal journal."
Ashley Hoover Baker October 22, 2021 1:44pm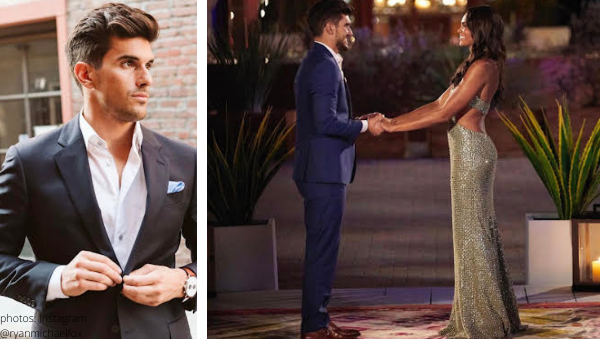 Here for the right reasons?
In one of the most dramatic moments ever (not really, but play along…) The Bachelorette's Michelle Young eliminated one of her 30 suitors, Ryan Fox, before the first rose ceremony.
ICYMI:
After hosts Tayshia Adams and Kaitlyn Bristowe found questionable documents in Ryan's room after a visit, they felt the need to alert Michelle of what they saw.
The elementary school teacher told Ryan the findings were a "red flag" sent him home immediately.
Ryan's side of the story:
While chatting with 'Grocery Store' Joe Amabile, Natasha Parker, and guest host Tia Booth on the Click Bait with Bachelor Nation podcast, Ryan claimed he had "no time" to do his own research before appearing on the 18th season of ABC's hit show.
"It's the biggest building season of the year ever, and so I had like zero time in the world to do anything, working like 60 hours a week."
"They [production] basically gave me that short amount of time to get ready. By the time I'm getting my clothes and things [packed], the only things that I asked my friend's wife, my close friend — 'Hey, can you give me like, a summary of the show? Can you give me a summary of Michelle?"
"Can you just put it in a little thing and give it to me? Because I've got too much going on.'"
A "misunderstanding:"
"I'm a big journaler. I think it's a big thing about being introspective, so one of the things they read is my self-devotionals, I guess, like my pros and cons list of myself. And that same list has like a summary of every relationship. After every relationship, I'll write a narrative of like what good happened in that relationship, what bad happened in the relationship."
"I think that's where the misunderstanding is, is that it's literally my journal. What she's reading is my personal journal," detailed 'Ice Cream Truck Ryan.'
"There [are] notes my friend gave me, and then she's reading my personal journal."
---