Andy Cohen Makes An Offer To Meghan Markle After Her Royal Announcement
Let's make this happen!
Ashley Hoover Baker January 10, 2020 8:50am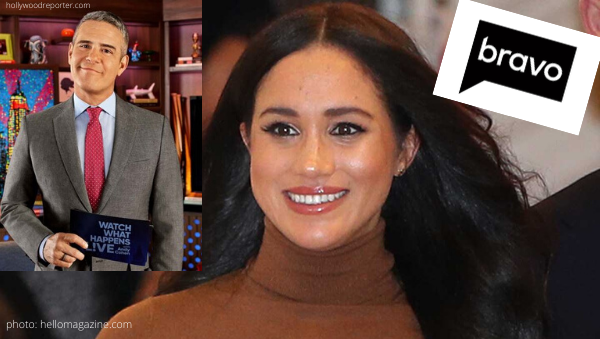 Bravo's Andy Cohen makes an offer to the Dutchess of Sussex, Meghan Markle, after her and Prince Harry's royal announcement. Let's make this happen!
In case you missed it, Prince Harry and Meghan broke the internet when they announced their plans to 'step back as senior members of the Royal Family" as they intend to work to become "financially independent".
Shortly after, It was later confirmed to the BBC that Meghan had left for Canada, according to BBC royal correspondent Jonny Dymond. The young family hopes to split their time between the U.K. and North America.
Andy Cohen has a plan to help Meghan become 'financially independent' that I think you're going to stand behind. In the comment section of the official Instagram account for the @sussexroyal Andy wrote, "Open invite for The Duchess to join #RHOBH !!!," assuming that's where the royals would reside.
Andy wasn't the only Bravolebrity to request the presence of real life royalty joining their cast. Real Housewives of New York star, "Countess" Luann de Lesseps, (not a real Countess) is rallying for the royals to be party of the RHONY franchise. The newly non-sober cabaret crooner took to Twitter to send her request to the actual royal.
We would openly welcome Meghan Markle on RHONY. We need a new Harry. #Chiccestlavie!

— Luann de Lesseps (@CountessLuann) January 9, 2020
Luann's former cast mate, Bethenny Frankel, is thrilled by the news from the young royals. She humanitarian and entrepreneur tweeted , "I love the Harry & Meghan news..Everybody wins, unless I'm missing something." (In the wise words of Carrie Bradshaw, 'I couldn't help but wonder," are we missing something? I digress…)
I love the Harry & Meghan news..Everybody wins, unless I'm missing something.

— Bethenny Frankel (@Bethenny) January 8, 2020
Despite the invitation to join RHOBH and RHONY, the Duke and Duchess have made no mention of moving to L.A. They did mention North America, by way of Canada, eh.
Thanks to Bravo's Daily Dish for dropping this RHOBH tie in…
David Foster, RHOBH alum Yolanda Hadid's ex-husband, revealed he was the one who arranged for Meghan, Prince Harry, and Archie, "to stay in Canada for their [David and his new wife, American Idol alum, Katharine McPhee] holiday getaway at a mansion on Vancouver Island." Boujee AF.
David told the Daily Mail, "I felt honored that I was able to help Meghan there, because I'm a Canadian and we're a commonwealth country, we're the Crown's. It's important to us, so I grew up with that kind of sentiment."
Bravo's Daily Dish didn't stop giving us Royal family/RHOBH connections there…
Meghan and David's current wife, Katharine, grew up in L.A. together and even did musicals with a young Meghan! How amazing is this throwback that the Broadway actress posted on the 'gram?!?!
On which Bravo show would you like to see Meghan star? Drop names in the comments!
---