90 Day Fiance's Larissa Dos Santos Lima Gives Her Price To Do Porn
This comes on the heels of the announcement Larissa is returning to 90DF: Happily Ever After with Colt Johnson!
Ashley Hoover Baker May 28, 2020 3:22pm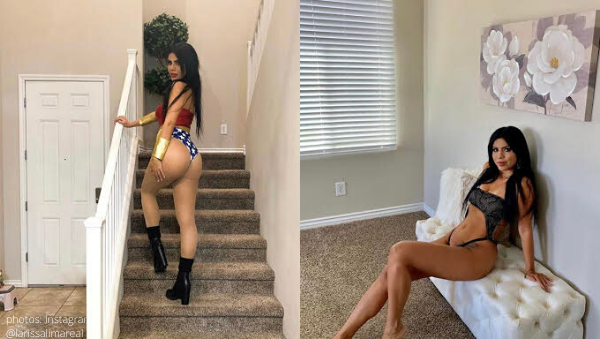 Who is against the Queen will die! 90 Day Fiance alumni, Larissa Dos Santos Lima, named her price to star in a pornographic film after announcing she is returning to 90 Day Fiance: Happily Ever After with her ex-husband, Colt Johnson! What a time to be alive.
After the announcement that Larissa and Coltee were returning (yet again) to TLC, the Brazilian beauty took to Instagram live to chat with her followers about her return to reality television, her 'OnlyFans' launch, and the price that will persuade her to do porn.
What is OnlyFans?
As defined by pinknews.co.uk, "OnlyFans is the social media platform where influencers are free to post whatever content they like – from softcore to X-rated – with fans able to pay for the privilege."
You're welcome.
I'm happy to take one for the team and have that in my browser history rather than yours.
So, in other words it's porn…
The self proclaimed 'Queen' denied rumors that she was becoming a porn star. According to reports from The Blast, "She has not decided what kind of content she will publish on her OnlyFans profile."
No to porn, but here's my price:
Larissa then announced she wouldn't be opposed to shooting a porno movie if the price was right. She explained, "People are posting in the press that I'm going to be a porn star. No, I'm not going to be a porn star. Half a million dollars. $500,000, I would do."
Larissa felt a need to add, "So I came here because I got a lot of questions, this and that, people posting that I was going to be a porn star. Driving me nuts dad. It's not true." (Did 'dad' make anyone else LOL?!?!)
I guess we got that last little nugget from Larissa to clarify saying she was not going to be a porn star right before giving her price to do porn. Clear as mud.
In case you want a taste of what to expect from Larissa's story line on 90DF: Happily Ever After:
I enjoyed this waaaaaayyy more than I'd care to admit.
Coltee's side hustle:
Larissa isn't the only one cashing in on her 'celebrity' status. Coltee hawked Larissa's wedding dress as 'a piece of television memorabilia' on his Fans Bound page. In case you missed it….
My night out at Larissa and Colt's divorce parties:
Like Larissa and Colt (and Debbie and the cats- shout out to Cookie Dough), I live in Las Vegas so naturally I took my first and second trips to a strip club in a decade to see what the heck would go down from their parties- Colt's was on a Friday, Larissa's was the following night. I recorded a bonus episode breaking down my experiences from both nights for the On This Day Entertainment podcast. Listen here!
Want weekly 90DF recaps?
You HAVE to check out the Pink Shade with Erin Martin podcast. She's the best podcaster in the 90DF game! Here is Erin's latest hilarious breakdown.
Do you think any adult film producers will seek Larissa for work? Sound off in the comments!
---