90 Day Fiance: Colt Johnson Selling Larissa Dos Santos Lima's Wedding Dress Online
Coltee described the dress as a piece of tv memorabilia.
Ashley Hoover Baker December 19, 2019 10:57am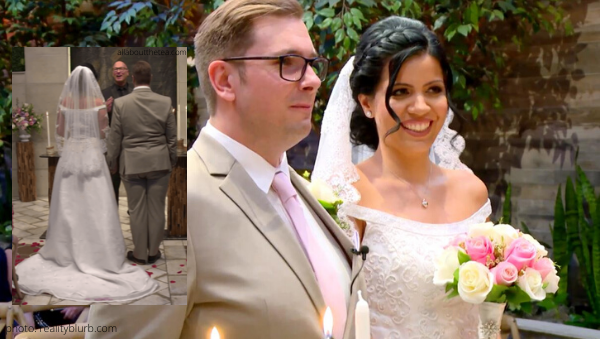 90 Day Fiance's Colt Johnson is selling his ex wife, Larissa Dos Santos Lima's wedding dress online at FanBound.com/ColtJ for $500. He described the dress as a piece of television memorabilia.
Coltee's listing states, "Own a piece of television memorabilia, the one and only famous wedding dress worn by my ex wife. Finally, you can own a piece that is on par with Dorthys [sic] ruby slippers and back to the future delorean. [sic]"
"Considering the average wedding dress cost in the U.S. is $1,000, this is quite a steal for a television-worn wedding dress more coveted than ones worn on shows like 'Friends,' 'Gilmore Girls,' 'Sex and the City,' 'Jane the Virgin' or 'Game of Thrones' … according to Colt, per reports from TMZ. (Face palm!)
That's not all the mama's boy is hawking online. He's selling invitations from his wedding to the Brazilian beauty on FanBound.com. "Larissa and I had these made before our wedding and we never mailed them. Limited supply." The cost? $75.
Deb's son/Cookie Dough's dad is also selling audio messages for $40. "Hello darlins [sic], I will record you an audio clip with whatever your little hearts desire."
Colt attempted being funny when promoting his video shoutouts,"Get a video of me doing and saying whatever the hell you want me to do. Want to ask me questions? Want me to make fun of people or my self? I'll be ya starlet." That cringeworthy content will set you back $50.
I don't understand the cost of the next 'service' up for grabs, a phone call. "You can purchase a short phone call with me. We will work together to find a convenient time and when it's time we will connect privately through our FanBound call system." Coltee is charging $100 for a phone call. Anyone else find it odd to charge $50 for a video message and $100 for a phone call? I digress…
For $50, you can purchase "a video of my self as an emoji and say whatever you want me to," $25 will get you a postcard of Coltee's artwork. "I will sign it and write a short message if requested. Please let me know which item you'd like, each one has a number associated with it."
The highest ticket item, besides the wedding dress, is a customized digital drawing for $250. "Oy [sic] there! Im [sic] upon request I will draw something that you would like. You will receive the png upon completion. Please provide reference images, dm me on Instagram savagecoltj."
I live in Las Vegas so I was able to attend both Colt and Larissa's divorce parties at a local Gentleman's Club in March this year. Click here to listen to the bonus episode of the On This Day Entertainment podcast I recorded breaking down both parties! To say Coltee was lit-ee would be an understatement….
On a scale of one to ten, how cringe worthy are Colt's listings on FanBound? Sound off in the comments!
---