90 Day Fiance Alum Fernanda Flores Is Dating The Bachelorette's Clay Harbor
The new pair made their virtual date public via social media.
Ashley Hoover Baker May 26, 2020 8:31am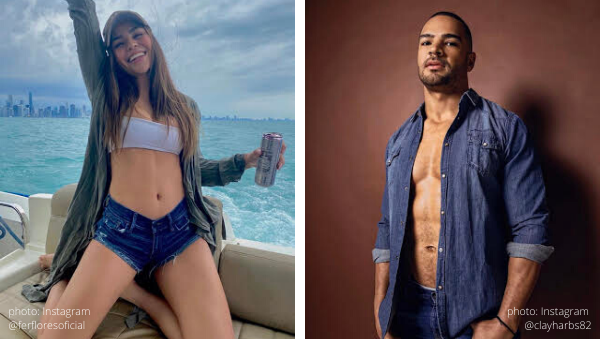 90 Day Fiance alumni, Fernanda Flores, is dating Bachelor Nations's Clay Harbor. The new pair made their virtual date public via social media. "Today I'm having a date — a Zoom date. I'm excited. I'm a little nervous," Fernanda explained on the finale of 90 Day Fiancé: Self-Quarantined. "Clay is just a guy that I like a lot. HDF and football player. He's been in a few reality TV shows before. Clay's so hot."
Fernanda's history:
We were introduced to the season 6 star of 90DF after she met her ex-husband, Jonathan Rivera, while he was on a vacation. The couple was married six months before Fernanda announced that they had split. In March 2020, the then-couple confirmed their divorce was finalized by making Insta-official.
Clay's history:
Reality tv fans were introduced to Clay when he first appeared on The Bachelorette season 14 before joining the cast of Bachelor in Paradise. Us Weekly reported last year that he and the Bachelor season 21's Angela Amezcua split after seven months together.
Fernanda and Clay's history together:
The 90DF and the Bachelor Nation stars met and went on an in-person date pre-quarantine. "I met Clay a few months ago over social media." Fernanda continued, "We went on a first date, but it wasn't the right timing for me. I wasn't ready to be dating. Now, we wanna date again, but now we're stuck home with quarantine and we figure we could have a virtual date."
The date:
Clay didn't waste much time before asking Fernanda's thoughts on having a family. "I do want kids. If you asked me this question when I was fresh out of my separation, I would say 'No, I will never date again! I don't believe in men. But you know, I'm ready to give love a chance again."
What's next?
Fernanda detailed, "I can't wait for this quarantine to be over and be able to have a real date with him, where I can be physically touching his muscles, and have physical contact," according to reports from US Weekly. "I can't wait."
Girl, I feel you.
Need more 90DF and Bachelor Nation news and gossip in your life?
Check out the Pink Shade with Erin Martin podcast for all things 90 Day Fiance and Love After Lockup! Here is Erin's most recent episode.
For you Bachelor fans, I recently interviewed Brandon Mills from The Bachelor: Listen To Your Heart for the On This Day Entertainment podcast.The episode drops tomorrow, so make sure you subscribe so you don't miss it!
Do you think Fernanda and Clay may have a future together? Drop your predictions off in the comments!
---