Former RHOBH Star Yolanda Hadid Details Recent Lyme Disease Relapse
"The emotional stress and grief [from her mother's passing] strongly effected [sic] my immune system."
Ashley Hoover Baker July 31, 2022 12:45pm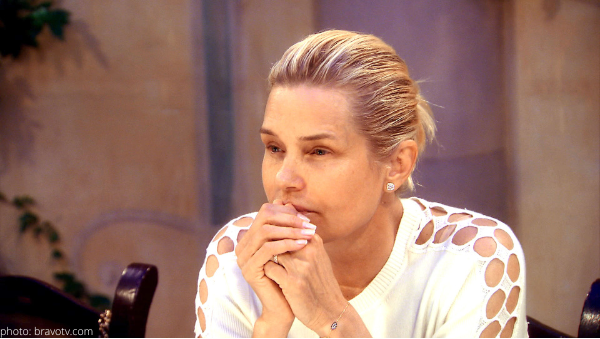 Alexa: Play Coming Out of the Dark by Gloria Estefan
Former Real Housewives of Beverly Hills star, Yolanda Hadid, took to social media to share her recent bout with depression and Lyme disease relapse.
Time to think:
A pause from social media gave the supermodel mama a chance to reflect on her life and health struggles.
"Coming back from a 9 month social media hiatus, a time to reevaluate my life."
"After the loss of my mother i [sic] really struggled with depression followed by a lyme relapse….
the emotional stress and grief strongly effected [sic] my immune system."
Digital diva:
Gigi and Bella Hadid's mom admitted that her screen time was taking away from irl experiences.
"My phone addiction didn't help either, it started to take so much time away from being present in my life."
"Its so easy to get lost in other peoples [sic] stories while forgetting to live and love your own."
"Texting is so much easier then [sic] picking up the phone and calling someone. we are all guilty of it."
"I realized that we are slowly starting to lose the art of communication and its creating a deep loneliness within us."
"Anyway this has been a wonderful reset, time to break the habit of picking up my phone 50 times a day."
Flip phone PSA:
The RHOBH alum asked her followers to take a look at yesteryear…"Remember the good old times of pagers and flip phones 😅?"
Yo was generous enough to low-key endorse flip phones (not an ad)- and I support her in this mission!!! 
ICYMI, a flip phone is "a device to call people without the constant pressure to answer emails, texts and many hours of scrolling through social media until your eyes hurt and often left uninspired," as described by Yo.
I feel like Yolanda is to flip phones as Jamie Lee Curtis is to windchimes, amirite?!?!
Reset:
The mother of three explained the benefits of her health journey and "learning to focus on myself, my health journey and being present in this moment of my life."
"Time has slowed down and feels a lot calmer, more time to just sit and actually read a book, time to reconnect with people, be creative and most importantly time with my family."
See for yourself:
View this post on Instagram
Is anyone else still haunted by the Lisa Rinna/Munchausen Syndrome storyline? Just me? Sound off below!
---