Former RHOBH Star's Ex Ordered To Tear Down Bel Air Mansion
Yolanda Hadid's ex, Mohamed Hadid's $100M mansion is said to be a "danger to the community."
Ashley Hoover Baker November 25, 2019 12:12pm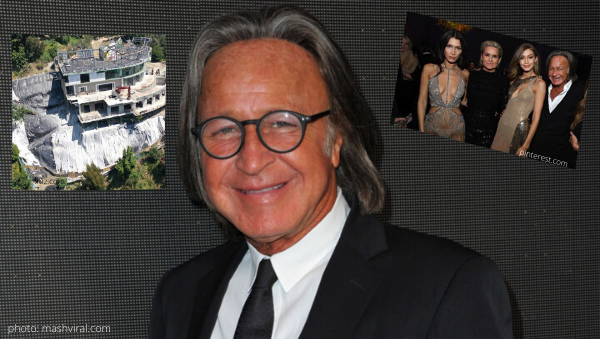 Former Real Housewives of Beverly Hills star's ex, Mohamed Hadid, was ordered to tear down his multi-million dollar Bel Air mansion due to structural issues. Yolanda Hadid's ex, who is the father of supermodels Gigi Hadid and Bella Hadid, was told to demolish his digs as it is a "danger to the community."
The excessive property, known as the Starship Enterprise (any fellow Star Trek nerds here?!?!) is 30,000 square feet, and is only half way finished being built. The work-in-progress poses a "clear and present" danger to Mohamed's neighbors for not being up to code, according to a LA Superior Court Judge's ruling per TMZ. "If this house came down the hill it would take a portion of the neighborhood with it," explained the honorable Judge Craig Karlan.
Mohamed's neighbors sued the 71-year-old real estate tycoon, claiming the massive mansion on the hillside was not only built illegally, but is also unstable. According to Page Six, "A structural engineer testified that the piles supporting the huge home were only driven 20 feet into the bedrock, instead of 30 feet required by building regulations."
According to the Daily Mail, Judge Karlan stated, "This seems to me to be a clear cut case where the property must come down." He continued, "We're not talking about an extra wall or a different way into the kitchen. We're talking about the most significant aspect of the structure — the foundation."
"The judge appointed receiver Douglas Wilson to supervise the demolition, which will cost approximately $5 million," according to Page Six. That's when things got got super shady. Mohamed's attorney, Bruce Rudman, claimed his client couldn't afford to demolish the mansion, nor Wilson's $500,000 fee.
Mohamed told TMZ his house "has not moved a millimeter," after the judge's ruling, to which he added, "It has never been an imminent danger to the neighbors." The real estate mogul explained that "city inspectors observed construction, which began in 2012, and was angry no one had raised the alarm before he spent millions," according to Page Six.
"He plead no contest and got three years' probation on the condition he either complies with building regulations or tears the mansion down by April 1," Page Six reported. A hearing in that case is set for Dec. 13.
Do you think the judge will reconsider his ruling in favor of Mohamed? Sound off in the comments!
---