VPR's Scheana Shay Details 'Throuple' With John Mayer And Stacie Adams
"It just became, you know, kind of the three of us."
Ashley Hoover Baker August 21, 2020 4:13pm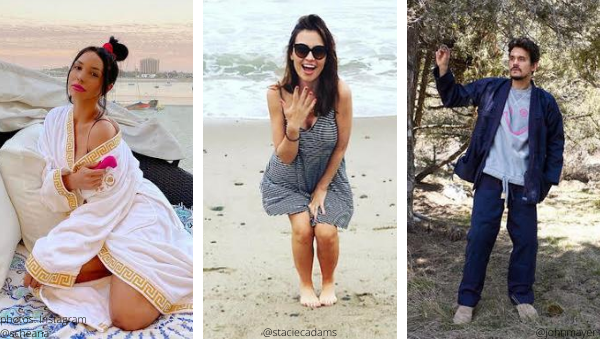 Whether 'it's all happening' or 'the rest is still unwritten,' I'm about to answer the questions you didn't know you had about the alleged throuple including Vanderpump Rules OG Scheana Shay, her former roommate/repeat character on The Hills, Stacie 'The Bartender' Adams, and rock and roll super star, John Mayer.
What a time to be alive.
For those of you in the back:
A throuple is portmanteau of the words three and couple. Women's Health Magazine defined a throuple as "A balanced, consensual, and committed relationship between three partners."
The publication also clarified what a throuple is not: "An opportunity to be in a relationship and have sex with people who are not their partner," nor is a throuple the same as "a threesome, or merely sex between three people."
Check out WHM's awesome article to learn more about throuples.
(Don't worry… Allegedly, Denise Richards didn't know what a throuple was either.)
Raise your glasses high:
Selling Sunset's Heather Rae Young and Stacie's sister, Jessica Hall, had Sheshu on their podcast, Flashbacks With Jessica Hall And Heather Rae Young, where she dished on her former throuple.
Prepare yourself for a wild ride….
Let's start at the beginning:
John was dating Jennifer Aniston at the time. They were throwing a party at the Grand Havana Room – where Scheana worked as a bartender and cocktail waitress. "I'm working this party. I end up getting wasted with them. Every time they did a shot, they would get me a shot. Then invited me to go back to her place in the Palisades after for an after party."
Scheana noted that she was too drunk to drive to the after party.
Jen and John broke up weeks later and that's when he sought after Scheana. John and some friends went back to the Grand Havana Room. Scheana explained, "One of his friends comes up and he was like, 'So, it's not really like public news yet but John and Jen broke up. He wants your number. Give it to me and I'll pass it to him.'"
Pass a note? Is this 7th grade?
Spill the tea, Sheshu!
"I was living with Stacie at the time," she began. "This went on for about six months. We hung out and we would go to his house in Calabasas, or Hidden Hills, whatever it's called. It just became, you know, kind of the three of us. We had a little throuple going on."
Heather, doing the lord's work, asked Scheana for clarification if whether it was a full on sexual relationship between them. Scheana confirmed and added that she and John would hook up with other women besides Stacie.
What happened to the relationship?
The SURver shared what changed toward the end of the six month relationship. "I definitely got a little jealous towards the end of it because I knew he liked [Stacie] more and I was like, 'Wait, I brought you into this and now you're getting more attention than I'm getting! Like, what's up with that?'" Scheana added "And then even after him and I stopped talking, they continued talking and there were, like, a lot of things."
What's the status relationship of the former throuple?
The popular Bravolebrity and Stacie have since patched up their friendship.
Stacie has a husband and a new baby, Scheana is not only the star of a hugely popular tv show, but she has a super hunky boyfriend, Brock Davies, while John maintained a stellar career in music, even fronting the legendary band, Grateful Dead. Oh, and John is close friends with Andy Cohen, Scheana's boss. When Hollywood couldn't get any more Hollywood…
There is no evidence of either Scheana nor Stacie maintaining a friendship with John.
Want to stay up-to-date on all of your favorite Bravo shows?
Subscribe to the On This Day Entertainment podcast so you don't miss a thing. Here is the most recent episode.
Do you think John has heard Scheana's music? Which of her bops do you think would be his favorite? Drop your shady responses in the comments!
---