VPR's Tom Sandoval Claps Back At Jax Taylor For Bringing Ariana Madix's Brother Into A Twitter Feud
Sandoval wrote, "Stop posting fiction, get a hobby, & get off my nuts, u little whiny b!tch."
Ashley Hoover Baker March 11, 2020 3:16pm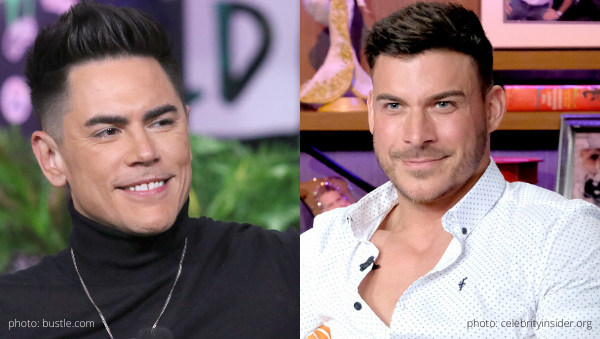 Vanderpump Rules star, Tom Sandoval, claps back at Jax Taylor after bringing Ariana Madix's brother, Jeremy Madix, into a Twitter feud. The  frenemies have been going back and forth all of VPR's 8th season, but this may be the final straw.
It started with Jax talking trash on Twitter:
"How about the fact that Jeremy, Ariana's brother can't work at Tom Tom because he doesn't have the right look … are you f—king kidding me? What look do you need to have?" the newlywed wrote in a since-deleted tweet. "#PumpRules this is about how you treat your girlfriend's brother?"
Jax didn't stop there.  "Telling your [girlfriend's] brother you belong at a tiki bar, not Tom Tom when he's hurting for shifts? No that's insane, Jeremy is a lot better looking and a better bartender [than] half the staff at Tom Tom. So sit [in] your pretty house while your younger brother struggles."
Sandoval snapped:
"When people talk sh!t about u and don't @ u, or the people they r talking about.. (@jeremymadix1) it should tell u a lot about who they r, and what they r saying…" the 5% owner of Tom Tom wrote. "@mrjaxtaylor stop posting fiction, get a hobby, & get off my nuts, u little whiny b!tch."
Jax brings Jeremy into the feud:
Jax tagged Jeremy in his Twitter post, "@jeremymadix1 did you not say this to me at dinner the other day? Kind of a random thing to make up, guess will just see at the reunion," tweeted the SUR bartender. "Or asking him for 1 percent of his start up because he lived in your apartment and paid rent. Wow, yeah you're a good friend all right."
Jax calls out Tom Tom's racist general manager:
Most recently, Jax went after his former friend and tweeted the response, "Says the guy who still has racist people working at Tom Tom." Jax was, of course, referring to Max Boyens and Brett Caprioni. In case you missed their drama…
If you can't get enough of VPR's messy drama in your life, you should check out the On This Day Entertainment podcast. Here is the most recent episode. 
Whose side are you on? Leave Team Sandoval or Team Jax in the comments!
---