Vicki Gunvalson Announced She's Leaving RHOC
Check out the Bravolebrity and fan reactions!
Ashley Hoover Baker January 24, 2020 9:36pm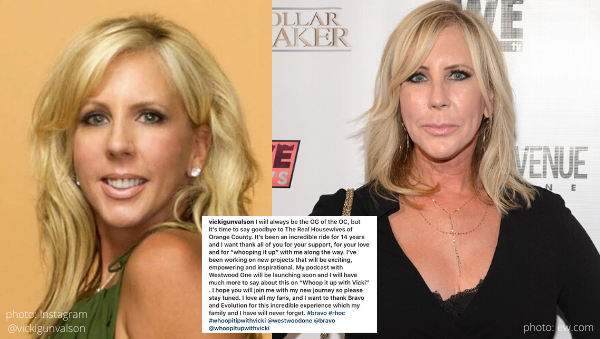 It's the end of an era, whether you like it or not…
Vicki Gunvalson announced she's leaving the Real Housewives of Orange County. The OG of the OC took to social media to make her statement. "I will always be the OG of the OC, but it's time to say goodbye to The Real Housewives of Orange County. It's been an incredible ride for 14 years and I want thank all of you for your support, for your love and for "whooping it up" with me along the way. I've been working on new projects that will be exciting, empowering and inspirational. My podcast with Westwood One will be launching soon and I will have much more to say about this on "Whoop it up with Vicki" . I hope you will join me with my new journey so please stay tuned. I love all my fans, and I want to thank Bravo and Evolution for this incredible experience which my family and I have will never forget."
Fans of the franchise are divided as to how they are handling the news. Some will miss the queen of Coto Insurance, while others are relieved not to have to hear the words 'whoop it up' ever again. Let's start on a positive…
The good-
An Instagram follower wrote, "You'll never know how valued you were to this show. Neither will they #bravotv….I wish you love, joy, and inner peace. You deserve the goodness in life, not the toxicity that's been given to you by this show recently. Best of luck Vicki! 💋💐💐💐💐."
I really hate it so much 😌the new girls can't hold a candle to what you have given us 🙏🏻🙃

— leemurrayrichjones (@mrrayjones) January 25, 2020
Another comment on the 'gram said, "I love you and I'll always be here for you. I'm excited for this new chapter in your life!"
You're the OG of everything!!!

And #RHOC is dead.

— Bethenny ukulele uber fedex (@mellowmell0) January 25, 2020
Another third of the 'tres amigas,' Shannon Beador, wrote, "You will always be my tres amigas sister. ❤️ The show may be over, but our friendship will always continue on. Will miss seeing your hospital visits, taking tequila shots, driving gold carts into restaurants, flipping kayaks, and basically just whooping it up! Love you! 😘."
Real Housewives of New York/cabaret crooner, Luann de Lesspes posted, "OG forever ❤️❤️." Lu's RHONY co-star, Ramona Singer, commented, "All the best !! Now any always 💕💙😘❤️." (Ramona also commented, "I'm l," but that's beside the point… 
The bad-
I can't believe @Andy fired Miss Piggy. pic.twitter.com/mdZMmhdbW3

— ⛓ (@MUDFLAPGlRL) January 25, 2020
And this will ALWAYS be your parting shot. pic.twitter.com/gGiSpDEWEo

— RicKitty (@Rick_Kitty) January 25, 2020
Several of Vicki's Instagram followers commented with, "Bye Felicia." Another went as far to say, "We won't miss you." My personal favorite added, "Please take Tamrat [Tamra Judge] with you!"
Bravo fired her

— pica (@daggiana) January 25, 2020
In conclusion, we know that Vicki is officially leaving the original housewives franchise, but we haven't learned why.
Do you think Vicki chose to leave RHOC, or was she not invited back? Drop your opinions off in the comments!
---