Teen Mom's Farrah Abraham Felt Sex Shamed For Filming Provocative Lingerie Video In Front Of Daughter
Fans questioned Farrah's parenting skills when they saw the video that quickly went viral.
Ashley Hoover Baker January 21, 2020 2:36pm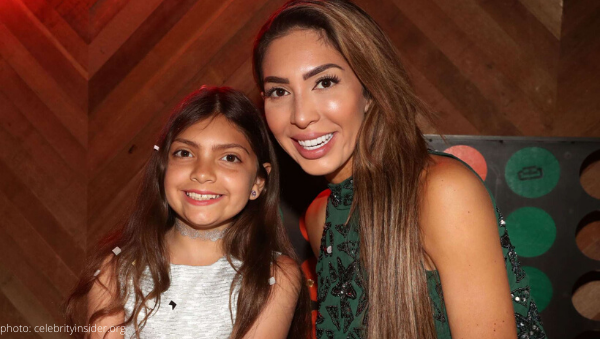 Teen Mom's Farrah Abraham felt 'sex shamed' after filming a provocative lingerie video in front of her 10 year old daughter, Sophia. Naturally, fans questioned the former Teen Mom's ability to parent after they saw the risqué footage showing her scantily clad in a sexy red lingerie set while wearing a captain hat that read, G Money. Way to keep it classy, Farrah.
Farrah Claps Back:
The adult film star told TMZ,  "I have to say there is nothing wrong with a woman being, like, fully dressed in clothing—if that's a bikini set or whatever." Farrah continued, "I think when I'm single, gorgeous, young and beautiful, I would almost regret looking back at my life not living a happy, outgoing life." (Cringe.)
Farrah, maybe you should work on responsible, nurturing, modest life.
Where was 10 year old Sophia?
Are you sitting down for this? You may want to…
She was on the same boat recording Tik Toks … while her mom was nearby grinding her barely-covered back side. This is the 'Backdoor Teen Mom' after all…
See the video for yourself! It's worth it to hear her explain how she lives her life "more conservatively" than most do…
Farrah's hopes for Sophia?
"I would definitely hope my daughter is never shamed to cover up herself and not be her happiest," according to The Blast. Farrah also assured herself the audience that Sophia is not growing up too quickly stating, she is still "very much her kid self" and is "more well behaved than I see of her other kids and her other peers."
Anyone else here for the comments?
One Instagram user posted, "Sophia is probably filming this 🤷🏻‍♀️🤔," while another wrote, "And your daughter was with you!! Mom of the year right there!!! I feel so bad for Sophia…you seriously need help!!!
Others posted, "I only follow you because I like to see just how much further you will go in destroying you and Sophia's life. You need help Farrah!" and "Thats [sic] not even a bathing suit…its underwear 🤦."
Do you think people are 'sex shaming' Farrah? Drop your opinions off in the comments!
---