Has Thomas Ravenel Been Invited Back For Season 7 Of Southern Charm?
Kathryn Dennis and Thomas have reunited just as cameras are about to start filming.
Ashley Hoover Baker January 14, 2020 8:48am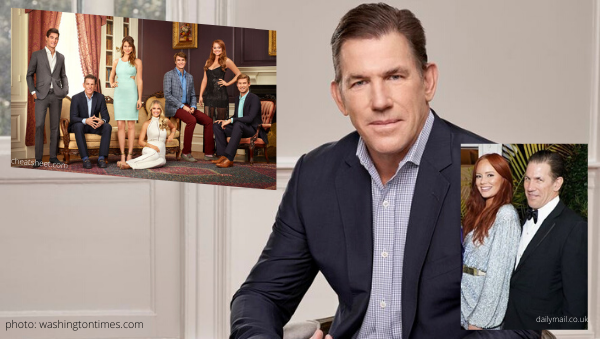 Hell froze over. Pigs began to fly. The apocalypse nears as Southern Charm star, Kathryn Dennis, has been seen spending quality time with her ex/baby daddy, Thomas Ravenel. I was not ready for that bomb to drop on my 2020.
View this post on Instagram
Is anyone else completely creeped out by Thomas' face in that photo?
I digress…
According to The Blast, cameras are about to roll for the 7th season of the hit Bravo show. Naturally, fans are curious as to if Thomas (who has been accused of sexual misconduct multiple times) will return to their Southern Charm screens.
Well, there's good news for those of us who get triggered by simply looking at T. Rav. The publication reported, "Southern Charm producers have not reached out to Thomas to appear in the upcoming season 7, which will reportedly start shooting soon." (exhale)
As far as the relationship between the parents of two, Kensington and St. Julien, a source from People dished, "Thomas and Kathryn have been spending a lot of time together. They're on really good terms. It started with co-parenting, but it quickly grew into something more."
The source continued, "She feels comfortable with him again, and they've both kind of tossed aside any other relationships they had for each other. There's that spark, and they're letting themselves explore it right now."
Thomas tweeted a reply to a fan's question denying he is dating his ex. "No, we're doing some things together because it makes the kids very happy to see us getting along. And in this matter, our interests are perfectly aligned."
The parents who recently settled a nasty custody battle aren't in a rush to define the new phase of their relationship, explained People's source."It's not like they've defined their relationship that they're back together right this second, but that's very much what's happening,"
"The thing with them is, this all can change in two days. That's how they are. It's always so up and down. Right now it's up and in a very good place," as per People's source. "They've always still loved each other, no matter what they were going through. They have this very magnetic relationship. "It's like they're drawn to each other. Whenever they're in a room, the way they look at each other, they've always had this crazy love."
Would you like to see Thomas return to Southern Charm? Spill your tea in the comments!
---