RuPaul's Drag Race UK: Baga Chipz Denied Entrance To Casino Due To Discrimination
The Genting Casino door staff dubbed the RPDR UK finalist, "a fella in makeup."
Ashley Hoover Baker January 17, 2020 1:34pm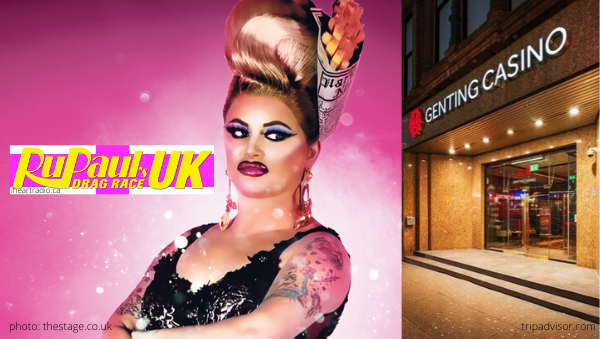 RuPaul's Drag Race UK finalist, Baga Chipz, was denied entrance to a casino in Edinburgh, Scotland due to discrimination. The Genting Casino door staff dubbed the RPDR UK contestant, "a fella in makeup."
Baga Chipz's side of the story…
The finalist on the first season of RuPaul's Drag Race UK franchise took to Twitter to share his unpleasant experience. According to Casino.org, Baga tweeted, "Scotland/Edinburgh. I bloody love you. BUT @Genting_Casinos, BOY JOVE (sic). Do not tell me I'm 'not suitable' because I'm in 'fancy dress.' NO." This tweet has since been deleted.
Another deleted tweet read, "These people were so horrid, and I only say that because I don't want my lgbt+ family to experience this."
Genting Casino's side of the story…
The casino assured the masses they do not discriminate against drag queens. A Genting Casino spokesperson claimed that security footage was reviewed, along with audio from the incident. "At no point were the comments that have been claimed on Twitter [by Baga] made by anyone present." The spokesperson  detailed, "The decision made by the door staff at 3:20 a.m. was based purely on a perception of how much individuals in the group had had to drink."
An official statement was made by the casino. "Given that we are a casino operating in a highly regulated industry, it is absolutely right and proper that door staff can use their discretion to deny entry in such circumstances. We do not discriminate against drag queens and we want to make absolutely clear that this played no part in the decision to refuse entry to the group in question."
Baga's response?
She noted that he had not been drinking prior to the incident, and that door staff used "obscene language."
Do you need more RPDR and its franchises in your life? Check out all of the programming coming your way from your favorite Queens in 2020. Start your engines!
If you love all things in the wonderful world of drag, you have to watch Netflix's new dramedy series, AJ and the Queen. Adam Salandra, a red carpet correspondent for LOGO, was kind enough to spill the tea on RuPaul and his girls from the red carpet at the show's premiere on a bonus episode of the On This Day Entertainment podcast. In case you'd like to check it out…
Is anyone else curious as to why Baga Chipz deleted the tweets she posted regarding her experience at Genting Casino? Drop your theories in the comments!
---