RuPaul's Drag Race Dragtestants Spill The Tea On Season 12
Ashley Hoover Baker February 26, 2020 11:47am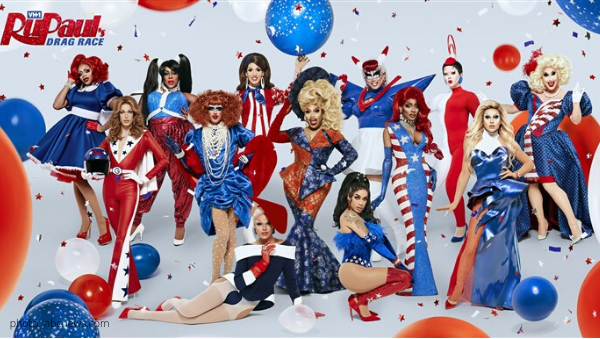 RuPaul's Drag Race dragtestants spill the tea on the upcoming season. Thirteen queens battle for the title of "America's Next Drag Superstar," oh and $100,000.
Gentlemen, start your engines, and may the best woman (either Aiden Zhane, Brita Filter, Crystal Methyd, Dahlia Sin, Gigi Goode, Heidi N Closet, Jackie Cox, Jaida Essence Hall, Jan, Nicky Doll, Rock M Sakura, Sherry Pie, or Widow Von'Du) win!
Season 10 alumni, Miz Cracker, asked RuPaul's latest batch of girls questions about what to expect for the new season premiering February 28, 2020. (In case you are curious about additional RuPaul programming coming your way in 2020, here ya go!)
Why is this season going to be the best season ever?
Jada 'The Essence of Beauty' said, "This season is so well rounded. Every single girl is so good at so many different things."
"Our cast is so, the looks/the fantasies. Everyone is serving their own fantasy to the best of the best." answered NYC's Sherry.
What did you feel as a French lady coming into an American competition?
The season's frenchie, Nicky, explained, "Auditioning for the show I knew already that it would be slightly harder for me on some challenges. American people have big egos, so drag queens from America would have HUUUGE ego. I got served. There was a lot of big egos in the room."
"It was so amazing being with this cast. It was hard to compete against them because I was fan-girling so hard for them."
Jackie, as a Broadway Queen, did you have any feelings going into this season coming from a different place than the other Queens?
Jackie (who loves Star Trek- here for a Science Fiction Queen, but enough about me) replied, "Being a more cabaret type Queen, I was a little nervous coming in. I don't know if 'sickening' has ever been used to describe me.  I can be sickening in my own off-Broadway-way."
Is there anyone who felt like they weren't going to fit in?
Rock M answered, "I came into this competition and San Francisco hasn't been represented on Drag Race since season 5 and I'm also the last Filipino girl cast since season 5 as well. So, walking in that room with that on my shoulders as well is a little intimidating."
If you would like to see Miz Cracker's full interview for Yahoo Lifestyle, here ya go!
If you can't get enough of Ru and her girls, you should check out the Alright Mary podcast. Here is Colin and Johnny's episode introducing the newest dragtestants!
Which Queen do you think will reign supreme? Drop names in the comments!
---