RuPaul's Drag Race Team Introduces Canned Cocktail And Mocktail Line
Bottoms up (and tops, too!)
Ashley Hoover Baker April 19, 2022 12:36pm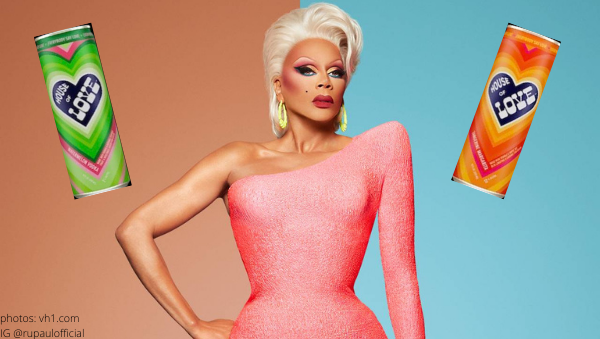 Making mixology herstory…
The team behind RuPaul's Drag Race released a new line of canned cocktails and mocktails called House of Love that is available for pre-sale!
Bottoms up…(and tops, too!)
The deets:
According to adweek.com, World of Wonder executives Randy Barbato and Fenton Bailey said this evolution is a "natural extension" and has been "a long time coming."
"It's always been about a bigger idea—it's more than a drink that tastes good, it also feels good and it sends out a message, like Ru [RuPaul Charles] has always said, 'Everybody say love,'" explained Randy.
"It sounds like we're sipping from our own cocktails, but we sort of are."
Svedka Vodka founder Marina Hahn knows cocktails are "all the rage."
Since alcohol-free 'mocktail' sales are also booming, the team created an inclusive line.
Absolut must be shaking (pun intended!)
Flavors of Love:
The House of Love line features 4 cocktails and 2 mocktails.
The cocktail flavors include pomegranate lime vodka, watermelon vodka, tangerine margarita, and strawberry daiquiri.
Ginger mule and colada are the mocktail varieties offered.
A word from Mama Ru:
In a statement, RuPaul commented. "Charisma, uniqueness, nerve, and talent never tasted so good" reminding us squirrel friends, "We put a little bit of love in every can."
How to get House of Love cocktails and mocktails:
Pre-ordering is available at houseoflovecocktails.com.
The cans are sold in packs of four for $17.99, as well as 24-can 'Viewing Party' boxes.
The boxes include 30-day all-access passes to the World of Wonder Presents Plus streaming platform as well as House of Love merchandise flash sales.
Want more of RuPaul and her girls in your life?
Check out the Alright Mary podcast for hilarious recaps and so much more!
Which of the House of Love flavors sound the yummiest to you? Sound off in the comments!
---