RHOSLC Newbie Jennie Nguyen's Racist Social Media Posts Surface
Jennie issued an apology stating, "I have since learned how offensive and hurtful my words were."
Ashley Hoover Baker January 20, 2022 4:00am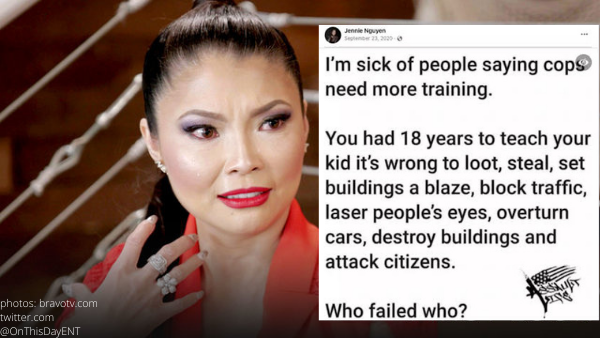 ______________________________________________________
Updated post- 1/20/2022 @4:00
Real Housewives of Salt Lake City star Jennie Nguyen took to her Instagram page to apologize for the slew of racist social media posts that resurfaced from 2020.
"I want to acknowledge and apologize for my deleted Facebook posts from 2020 that resurfaced today. At the time, I thought I was speaking out against violence, but I have since learned how offensive and hurtful my words were. It's why I deactivated that account more than a year ago and why I continue to try to learn about perspectives different from my own. I regret those posts and am sincerely sorry for the pain they caused."
View this post on Instagram
Jennie disabled the comments for her apology.
Do you believe Jennie's apology is sincere? Sound off in the comments!
______________________________________________________
Original post- 1/19/2022 @12:15
"I have plenty of everything — including opinions"… and microaggressions. –Jennie Nguyen
Real Housewives of Salt Lake City newbie Jennie Ngyuen is getting dragged on the internet (rightfully so) after old social media posts surfaced revealing her opposition to the Black Lives Matter movement and police reform.
The posts:
In multiple Facebook posts from 2020, Jennie shared her true feelings about the murder of George Floyd.
"Hundreds of blacks shot and many killed (including children) by other blacks every week. Over a thousand Officers violently injured, by rioters. Over a thousand Officers violently injured, some permanently, by rioters. Anarchists rioting in major cities every night, which has caused billions of dollars of destruction to private and public property. And you still think Police Officers are the problem. You are an idiot."
The mother of three also shared an article cover of George Floyd being murdered by police officer Derek Chauvin with the headline "Cops' lawyers make bombshell claims in George Floyd case: Bodycam shows Floyd ingesting fatal amount of drugs before arrest; he died of overdose."
An additional post was a reshared meme from 'Assault Life' with the message, "I'm sick of people saying cops need more training. You had 18 years to teach your kid it's wrong to loot, steal, set buildings a blaze, block traffic, laser people's eyes, overturn cars, destroy buildings and attack citizens. Who failed who?"
There was also a meme of actor/comedian Ken Jeong in a classroom announcing "If you follow the officers orders, you won't get shot."
See for yourself:
We were all rooting for you, Jennie Nguyen!! (I hope you read that in Tyra's voice.) #jennienguyen #RHOSLC pic.twitter.com/czjirUnOQj

— OnThisDayENT (@OnThisDayENT) January 19, 2022
Check out the Pink Shade podcast for weekly Bravo Breakdowns and so much more!
Do you think Bravo will invite Jennie back for a second season of RHOSLC? Drop your predictions off in the comments.
---