Video Confirms Heather Thomson's Claim That Men [Million Dollar Listing's Josh Flagg] Put Cigarettes Out In Sonja Morgan's Vagina
TRIGGER WARNING!
Ashley Hoover Baker October 26, 2021 4:40pm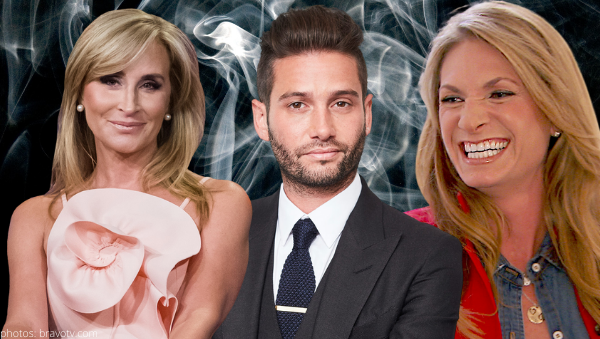 TRIGGER WARNING! 
Claims coming from Dave Quinn's explosive book, Not All Diamonds and Rosé: The Inside Story of The Real Housewives from the People Who Lived It, continue to leave both Bravoholics and Bravolebrities shook.
Consider this your last caution before I break down the claim that former Real Housewives of New York star, Heather Thomson, made involving Sonja Morgan's private area and lit cigarettes. This is a very disturbing story…
 ICYMI:
Holla Heather told the author of the tell-all that Sonja "allowed men to put lit cigarettes in her vagina."
"I had scraped her off carpets. I had taken her out of a vestibule where she was letting guys put lit cigarettes in her vagina."
The latest revelation:
This is the plot twist we didn't see coming.
It turns out, a video resurfaced of Million Dollar Listing New York star, Josh Flagg, admitting to the disturbing act.
"Remember that one time at the townhouse? I stuck a Parliament [cigarette] up her vagina once."
Sonja added, "Oh, God. We woke up the next day, there were so many cigarettes lying around."
"It was all over," added Josh. "I mean literally I stuck a cigarette up her vagina."
Sonja interjected, "Just for fun," before uncomfortably taking a sip of her drink.
Watch for yourself:
View this post on Instagram
Want to stay up-to-date on all things Real Housewives?
Check out the Pink Shade podcast for weekly Bravo Breakdowns and so much more!
Do you think Sonja consented to what Josh did to her private area? Sound off in the comments!
---