RHONJ's Teresa Giudice Gets Dragged For Wearing Balenciaga After Controversial BDSM Ad
"Modelling Balenciaga?! Do you live under a rock Teresa."
Ashley Hoover Baker November 25, 2022 5:08pm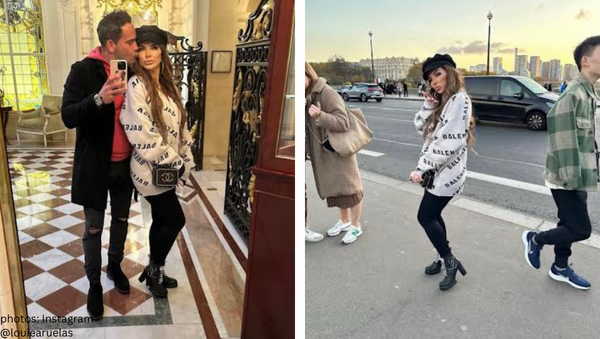 "Haters gonna hate, but I just love, love, love" [Balenciaga post-BDSM controversy]
Real Housewives of New Jersey's Teresa Giudice is getting dragged for trash after her husband posted photos of Tre donning a white sweater covered with the word Balenciaga in black print while vacationing in Paris.
In case you missed it:
The fashion house faces a child pornography court ruling after releasing an ad of children holding bondage teddy bears.
The post:
View this post on Instagram
Taking it to the comments:
The newlyweds' attempted flex flopped with fans.
"Typical Teresa. Always on the wrong side of what's right. Why would she wear Balenciaga? 🙄"
"Modelling Balenciaga?! Do you live under a rock Teresa."
"Belenciaga Teresa? really?do better you are a mother 😡😡😡."
"Balenciaga…GREAT, another person to unfollow! You do realize there are normalizing child bondage, right? Are you ok with that? Shameful! UN FOLLOW!"
"Please Take off that balenciaga sweater…boycotting."
"We love you but burn that balenciaga!!!! 🤮🤮🤮🤮🤮🤮🤮🤮🤮🤮🤮."
"Oh Teresa. I know the news prob isn't your thing, but please do some quick research on the controversy surrounding Balenciaga from just this week re child pornography and exploitation."
"Wearing Balenciaga…anyone surprised? 🤡🤡🤡."
Do you think Teresa should apologize for flaunting a brand like Balenciaga? Sound off in the comments.
---