Update- RHOC's Emily Simpson Used Ozempic For One Month
She admitted to getting "liposuction in my arms" as well as "a breast reduction."
Staff June 27, 2023 7:29pm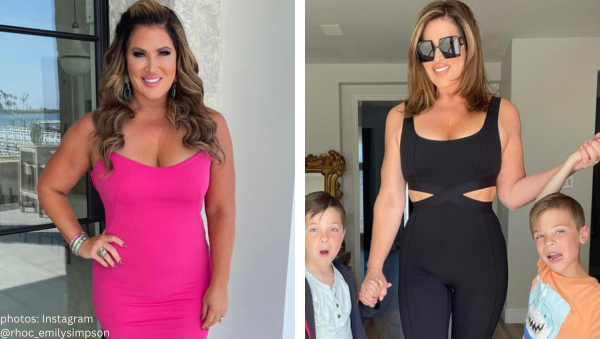 Updated post: June 27, 2023 @19:29
It was Oooooo Ooooooo Ooooooo Ozempic that got RHOC's Emily Simpson started off on her weight loss journey.
During an appearance on Jeff Lewis's podcast, Jeff Lewis Has Issues, the curvy Real Housewife of the OC admitted that her doctor offered her a controversial weight loss medication … "Why don't you do a semaglutide – which is Ozempic."
"So I did that in December for one month."
She added, "That was a great kickstart for me."
"For me, it worked."
Emily confessed having additional physical modifications since filming. "I had liposuction in my arms and I had a breast reduction."
View this post on Instagram

Emily is the second Bravolebrity to confess to using Ozempic.
Real Housewives of New Jersey's Dolores Catania divulged on Watch What Happens Live in April of 2023, "I wasn't going to come to the reunion looking any bigger than anyone else."
Another RHONJ housewife (kind of) copped to using Ozempic. Margaret Josephs told People about her "life-changing" weight loss journey over the last year. "It's not about being fat or skinny; it's about every aspect of my wellness coming together."
The goal was "to feel healthy and get my body to a place where I'm supposed to be. I feel so lucky to have found something that's really working for me."
Margaret's doctor, Jamie Gabel PA-C, explained he put the Real Housewife on a "wellness program that included hormone replacement, peptides to maintain her muscle mass and strengthen her joints, and a mixture of glucagon-like peptide-1 (GLP-1)."
Margaret was unclear if her weight loss "cocktail" contains Ozempic,  but aquick google search said it is the same thing, (keep in mind I'm not a health care professional.)
"I'm 126 pounds now, give or take a pound depending on the day, and I haven't been that weight since I got married the first time in 1994."
---
Original post: June 25, 2023 @9:39
Emily Simpson is slimmer than ever … and ready to respond to haters out who question how she transformed her body.
The Real Housewives of Orange County star shared a series of photos with her two sons that got Bravoholics gabbing.
View this post on Instagram
Haters gonna hate:
After several sassy IG users left snide comments under her post, the RHOC star chimed in to set the record straight.
The attorney/party planner clapped back to an IG user who asked "How's that Ozempic working out for you" before saying her body will "all revert back to how it was before when she stops taking [Ozempic.]"
"You don't know me and nothing will 'revert back' bc my arms are jacked from heavy lifting 7 days a week."
Another user inquired "which diet pill" she used as the source for her tiny and toned physique. Emily noted her weight loss journey began after she "stopped filming in November of 2022," not "2 months" ago.
After being accused of altering her photos, she noted, "I don't photoshop anything ever," before adding, "If my arms are ripply it's bc I'm 47 and I'm aging."
"I've been every size," Emily explained to an additional user on the 'gram. "That's a real woman with real struggles."
See for yourself:
Emily Simpson had some free time to say she's not on Ozempic. pic.twitter.com/liKXYqRt6c

— OnThisDayENT (@OnThisDayENT) June 25, 2023
What are your thoughts on the Ozempic craze ALLEGELY hitting the Real Housewives franchises? Drop your opinion below.
---