Lisa Rinna Poses Nude As Tribute To Schitt's Creek's Moira Rose
Ashley Hoover Baker July 24, 2023 6:34am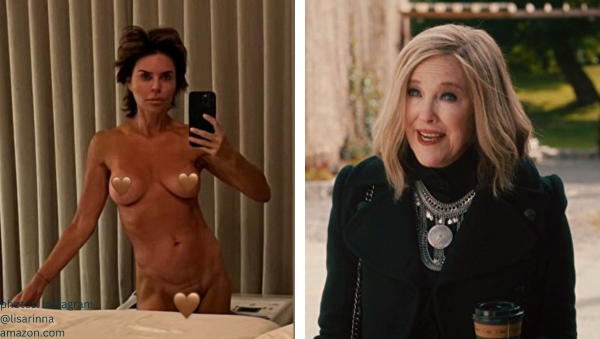 Former Real Housewives of Beverly Hills star, Lisa Rinna, was naked on Instagram again.
This time, it was under the guise of inspiration from Schitt's Creek's iconic character, Moira Rose.
According to Rinna's IG story, the lippy soap actress called back to the time Moira believed nudes leaked of her online as she was running for town council.
Lisa penned, "Moira Rose says you should take as many naked pics of yourself while you still can and celebrate it."
"Ok, Moira," she gladly complied.
Leave 👑 Moira Rose out of your nonsense please 🖤 pic.twitter.com/DYaSL5SwSB

— OnThisDayENT (@OnThisDayENT) July 24, 2023
Never forget the advice Moira gave Stevie on Schitt's Creek.
"Take a thousand naked pictures of yourself now. You may currently think, 'Oh, I'm too spooky.' Or, 'Nobody wants to see these tiny boobies.' But, believe me, one day you will look at those photos with much kinder eyes and say, 'Dear God, I was a beautiful thing!'"
As tired as I am of looking at a naked Rinna on social media, I am obsessed with knowing she's a fellow Schitt Head. Are any other Real Housewives/Schitt's Creek enthusiasts here? Sound off below.
---