Love & Hip Hop Atlanta's Erica Dixon Denies Stars' Paternity
Erica Dixon denies that Power star is the father of her twins.
Lisa Evans February 21, 2020 11:47am
Love & Hip Hop Atlanta star Erica Dixon is back in the headlines as the new season is scheduled to return.
Erica gave birth to twin girls several months ago and throughout the course of her pregnancy she had remained hush hush on the father of her newborn daughters. And while she has been very open about her difficult journey to co-parent daughter Emani with Scrapp, she remains tight-lipped about this.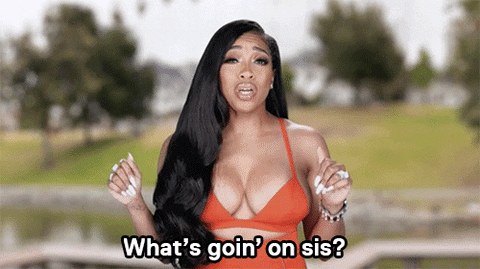 photo: giphy.com
The gossip blogs have been speculating that Rotimi who stars in the show "Power" is the father of Erica's twins. 
Recently, Erica became very irritated during an Instagram Live when a follower suggested that Rotimi is the father of her twins. She shut that down immediately and stated that the father of her twins "is a street dude". 
Take a look at the Instagram Live moment here:
www.youtube.com
What we do know is that the father of the girls' is a Vegan and an Antivaxxer.
At this point I still feel just as in the dark as I did before the live. Who knows what is true at this point.
Do you believe Erica is telling the truth about the paternity of her twins?  Will this question be answered on the show this season? Let me know in the comments below.
---