Kourtney Kardashian Talks Kravis, 'The Kardashians,' and Lemme Live
Her vibe right now is just living life!
Imani Craig October 4, 2022 5:18pm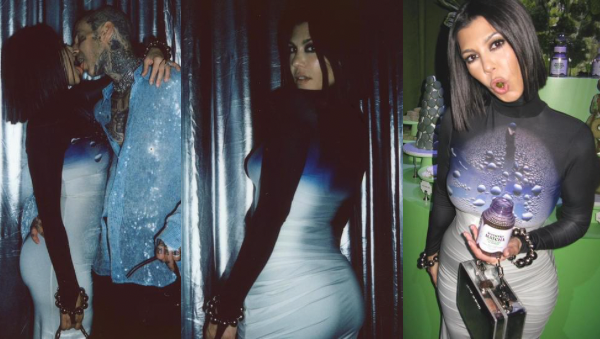 Look who has a new business they're passionate about! Kourtney Kardashian sat down with Amanda Hirsch, host of the entertainment podcast, Not Skinny But Not Fat, to give fans an *authentic* peak into her life as the queen of marriage, motherhood, and matcha.
Fans have come to know Kourtney Kardashian as the unbothered, eldest Kardashian sister. At one time, even donning the title of "least interesting to look at." But now with her new last name, new business, and overall new outlook on life, she has ushered us all into a new era – enter KKB!
Toward the end of, Keeping Up With The Kardashians, there was a visible shift in the dynamic between the three sisters, with Kim and Khloe forming a closer relationship. Kourtney recounted that while life has changed for everyone, what really connected both Khloe and Kim, was their having children at the same time. While they were both excitedly expecting, Kourtney was growing more and more unhappy with filming. 
"I love to keep my little bubble and as they say, 'Protect your energy.' And I just like to be in my own little world and enter it when I choose and then slip back in."
"Filming 5 days a week wasn't fulfilling me or making me happy. The way that we're doing it now [The Kardashians], I've never once felt like I've filmed," she said. 
The Kardashians on Hulu
What makes The Kardashians different than their former reality show that aired on E! for 14 years, is the fact each sister holds an Executive Producer credit, allowing them more creative control and control of the narrative. Although, Kourt didn't love how her new relationship was portrayed in the show's inaugural season. 
"Production makes the choice of what my story is," she shared. 
"I didn't mind it at first" (regarding Scott's commentary on her relationship with Travis Barker) "This is my fairytale. Why can't we show the happy ending?" 
Will fans see her former partner Scott Disick in season 2? "I have no idea." But what Kourtney is sure of is her unwillingness to be a part of the show if the negative commentary continues, "I demand the same respect." 
Kravis 
Despite past relationships, Kourtney knew that she would end up with the Blink 182 drummer. "No matter what, we felt like home at a distance." 
Speaking of "home," the Lemme creator shared that she and Travis have yet to merge their households. "We both want our kids to feel really comfortable." 
Together, the couple share 6 children, and are taking their time with moving.  
"We've looked but we haven't found it," Kourtney shares. But even though their dream home is yet to be a reality, the couple live one block from each other, and Travis makes sure to give her a kiss every night. Even after late night studio sessions. 
In addition to their night time routine, Kourtney shared that every morning after school drop off, she goes to Travis's house to have matcha with him. Which he prepares for her arrival. SWOON. 
Lemme Gummy Launch
Earlier this month, Kourtney released one of the most on-brand products to fit her lifestyle – vitamins! Lemme Live was a passion project 5 years in the making, and something she really enjoys doing (after being a mother of course.) 
The supplement brand is currently focused on three gummies – Matcha, Chill, and Focus. 
"We wanted it to look like candy jars," Kardashian said. "I wanted it to be fun and happy. The world needs more fun and happy!" The jars are also zero virgin plastic, meaning no new plastic was used in any of Lemme's products. 
If you're wanting to know her fave from the line, you better order yourself some Focus. 
Mrs. Kardashian Barker has been glowing lately. Maybe it's the supplements, maybe it's being in a healthy marriage, but whatever it is, she is in the prime of her life and she credits it to being "authentic to her core."
What's Next
Kourtney and Travis have put a hold on their IVF journey, and are hopeful "God blesses them" with a baby soon. But for now, she's enjoying being a mom of 6, and birthing a different type of baby by way of her vitamin and supplement line.  
Simply put, her vibe right now is just living life, and Lemme just say, I'm here for it! 
To listen to Kourtney Kardashian Barker on Not Skinny But Not Fat, click below. 
Are you going to try any of Lemme Live's gummies? If so, which ones?
---