Kelly Henderson Speaks On Kristin Cavallari And Jay Cutler's Divorce
"I have nothing to do with their divorce."
Ashley Hoover Baker May 20, 2020 10:32am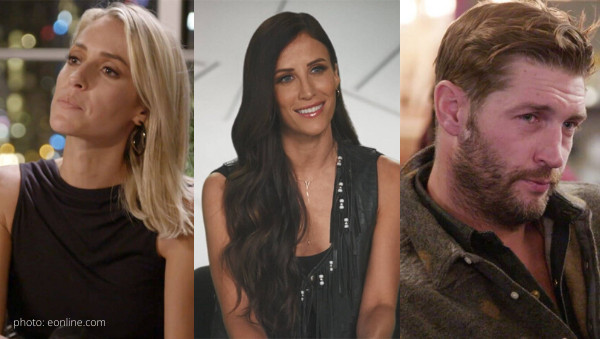 Kelly Henderson finally commented on her former BFF Kristin Cavallari's divorce from Jay Cutler. "I have nothing to do with their divorce."
The former star of E!'s Very Cavallari made an appearance on the All's Fair with Laura Wasser podcast to set the record straight regarding her role in her former friends' divorce. The stylist even commented on the cryptic Instagram post she made of a mystery man wearing the same children's style beaded bracelet that Jay does.
Kelly on Kristin and Jay's divorce:
After weeks of rumors flooding the internet, Kelly clarified, "I'm just gonna go ahead and put this out there, there was never an affair, I have nothing to do with their divorce, and I am not dating Jay Cutler." She also explained that she was friends with Jay before he even started dating Kristin, for about 12 years in fact.
Laura asked Kelly if she maintained a friendship with Jay. Her response? "We're not really in touch anymore, we had a little bit of a falling out last year, so I've kind of gotten some space from both of them would be the nice way to say it, I think."
Kelly on who the mystery man with the colorful beaded bracelet:
"It's my boyfriend because I've been in a relationship for quite some time now. He is a very private person and I respect that. Him and his kids are a huge part of my life now, but I try to keep them out my public part of my life because it's not what they signed up for. So, I talk about him a lot on my podcast, I've posted about him before, but because of the rumors that have been speculated about. I literally posted a picture of my boyfriend and literally got annihilated. People are insane."
In case you missed the Instagram post/drama around the bracelet, here ya go!
Listen to the full interview with Kelly here!
The rest is still unwritten:
…and it may never be.
In case you were living under a rock for the last 24 hours, Kristin announced that she will not continue with her reality show, Very Cavallari. The former star of Laguna Beach and The Hills took to the 'gram to share her news. "As I start this new chapter in my life, I have decided not to continue with 'Very Cavallari.' I've absolutely loved my time filming and am so grateful to E! Entertainment for making this journey possible. To the fans: I can't thank you enough for all your support and for keeping up with me all of these years. I love you guys 💛."
Don't want to miss any reality tv and celebrity news?
I don't blame you! Check out the On This Day Entertainment podcast to stay up-to-date with all the latest pop culture happenings. Here is the episode that commented on 'Bracelet Gate.'
Do you believe that Kelly and Jay are NOT romantically involved? Drop your hot take off in the comments!
---