RHOSLC's Jen Shah 'Made It Rain' On Dancers At NYC Strip Club
Jen "made it rain on dancers and downed glasses of Don Julio and Veuve Clicquot champagne." 
Ashley Hoover Baker October 23, 2021 10:49am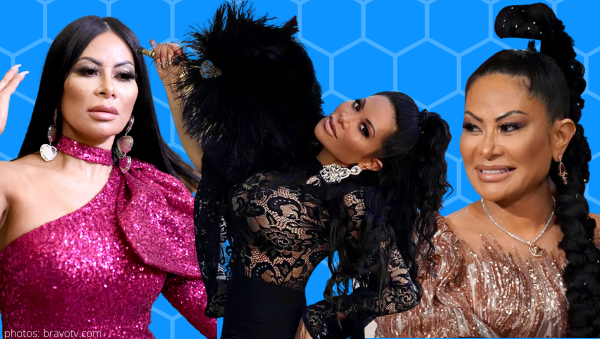 ________________________________________________________
Post updated 10/23/21 @10:49
Jen Shah was the 'Queen Bee, and MVP' of Larry Flynt's Hustler Club NYC during her guest appearance alongside adult superstar, Alexis Monroe.
The Bravolebrity -who faces up to 50 years in prison if convicted on all charges of wire fraud and money laundering- arrived at the strip club at 11 pm, according to Page Six, and quickly moved to the VIP section.
Living her best life:
Jen and her friends "made it rain on dancers and downed glasses of Don Julio and Veuve Clicquot champagne."
***I reached out to Flynt's Hustler Club NYC to see if their bar carried Vida Tequilla to determine if Don Julio was ordered with a side of shade directed at Jen's Real Housewives of Salt Lake City costar, Lisa Barlow [the CEO of Vida Tequilla], but I have yet to hear back from the establishment.***
Cover Brooks Marks' eyes before reading:
Alexis Monroe invited the mother of two on-stage for a lap dance, where Coach Shah's wife fondled her backside.
Sports Grind Entertainment reported, "Monroe continued to dance for Shah as more patrons threw money at the frisky pair, eventually sliding down between her legs, giving the crowd a show for their cover charge."
"Shah also took to the pole herself, giving fans a few simple turns while donning a black cocktail dress with ample cleavage and black heels, wearing her hair in a high ponytail."
"After the night of fun, Shah and her group were spotted exiting the venue just after 3 am.
________________________________________________________
Original post 10/16/21 @12:25
Jen Shah, the self-proclaimed Shah-mazing star of RHOSLC, is looking to make some extra cash before her upcoming trial for fraud and money laundering.
The gig:
TMZ reported, Jen is "set to make a pretty penny on October 22 at Flynt's Hustler Club NYC, just days after her heavily-publicized telemarketing fraud trial was supposed to begin … though it's now been pushed to March 2022."
"We're told Shah will be doing meet-and-greets and signing autographs at the popular strip club, and will also get an onstage shout-out with Alexis Monroe … an adult actress who's celebrating her bday that night."A Hustler club staffer dished "Shah was eager to host an event with us the moment we approached her team," according to Page Six.
The compensation:
The Bravolebrity is "receiving a large sum (of money) in exchange for her appearance, most likely enough to put a dent in her legal bills."
The tabloid disclosed Jen was raking in "tens of thousands" for the strip club hosting gig.
Want to stay up to date on all things Real Housewives?
Check out Zachary Reality for the latest gossip from Bravo, Bachelor Nation, and beyond.
Do you think Jen Shah is making money to put toward her legal bills or her glam? Drop your opinion off in the comments!
---