Jax Taylor Wishes He Was 'Good Friends' With Stassi Schroeder
"We didn't go to their wedding and they're still kind of holding that over our heads."
Staff October 13, 2023 8:29am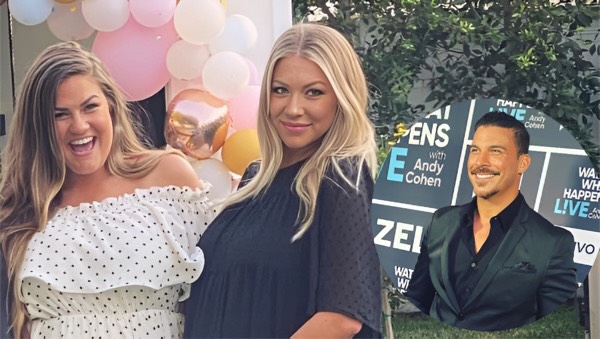 Jax Taylor may have once been the #1 guy in the group, but he's missing his former #1 lady!
During his recent appearance on Watch What Happens Live, Jax dished on where he currently stands with the Schroeder-Clarks.
"I wish I was good friends with Stassi and Beau still," Jax began. "I'm trying."
Jax and Stassi Schroeder have had many ups and downs throughout the years, but their recent falling out was due to the Cauchi's (Jax's real last name) not attending Stassi and Beau's Italian nuptials in 2022.
"We didn't go to their wedding and they're still kind of holding that over our heads," Taylor said.
In case you missed it, Stassi publicly commented on how Jax and Brittany's absence from their wedding affected her.
When Stassi cohosted an episode of the popular podcast, The Toast, she said, "Good friends don't do that. They don't talk s—t about your wedding behind your back or pretend that they're coming and give a list of reasons why they're not coming to other people."
"Friends don't do that to each other."
It appears the hurt goes both ways.
Concluding his response to the question, Jax said that this strain hurts him because "he loves them both dearly."
"They really took it to heart that we didn't go their wedding," Taylor concluded.
To add to her son-in-law's defense, Brittany Cartwright's mother, Sherri, commented on an Instagram post from his WWHL appearance.
"Cruz's passport didn't come in time. Trust me they wanted to be there hotel and flights were booked. I was going to Italy also to watch Cruz while they went to the wedding. Momma knows the truth."
Do you think Stassi and Jax will eventually reconcile? Drop your predictions in the comments!
---