Hilarie Burton Defends Sophia Bush Amid Cheating Allegations
"There are so many unnamed sources making claims about the woman I love, so f--k it. I'll be a named source."
Imani Craig October 20, 2023 6:11pm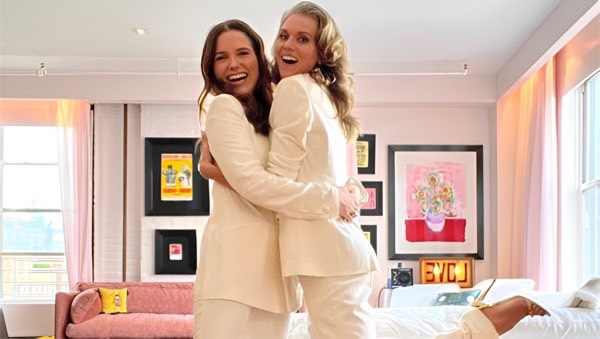 B.Davis and P. Saywer may have been bff goals on One Tree Hill, but Hilarie Burton Morgan and Sophia Bush's IRL friendship is so much better!
Sophia Bush (formerly Hughes) has been under fire this week after news broke she is dating soccer star, Ashlyn Harris.
In a People Exclusive, a source revealed that,
"After being friends for years, and running in the same social circles, Sophia and Ashlyn went out on their first dinner date a couple of weeks ago."
"This is so recent, and they are both beginning new chapters."
This unlikely pairing sparked many questions since Bush filed for divorce from her husband Grant Hughes, after just 13 months of marriage. Harris filed for divorce from her partner, and fellow soccer player, Ali Krieger. The pair recently adopted two children together.
To add to the "cheating" speculation, Erin Foster revealed that Chad Michael Murray (who was married to Bush for 5 months in 2005) cheated on her with his OTH co-star  "in a pretty egregious way."
While Sophia Bush has yet to publicly comment on either allegation, that didn't stop her best friend, and podcast cohost, Hilarie Burton Morgan from jumping to her defense.
In an Instagram story, Hilarie called out Erin Foster's claim, saying,
"Ooof. Cringe. I got off my red eye flight home and multiple people had sent me this headline. As the person who had a front row seat then? This wasn't it. We were all told you'd broken up which is why our guy was perusing her. Now this is being spun to make my sister look like a brazen harlot. And if she's anyone's harlot, it's mine!"
"Happy to discuss @erinfoster. You also deserve truth. There are so many unnamed sources making claims about the woman I love, so fuck it. I'll be a named source. Lotta internet voices being nasty, and as the person who knows the real timeline? It would be laughable if it wasn't so hurtful."
Foster has yet to respond to Burton's offer but it looks like this saga is far from over!
What your opinion on the drama?
---