Hailey Bieber Dishes on Marriage and Selena Gomez Drama
We've moved on, why can't you?
Imani Craig September 28, 2022 2:33pm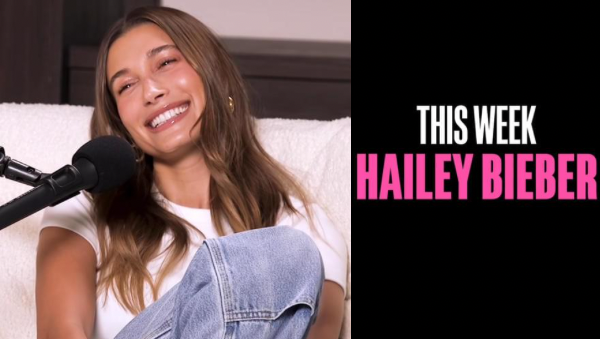 Justin Bieber might have made Hailey "one less lonely girl" but now she's sharing what it's actually like carrying the title of Mrs. Bieber!
On Wednesday, Hailey appeared on the popular sex and advice podcast, Call Her Daddy, opening up about her very public relationship with the Baby singer.
As told to host Alex Cooper, the 25-year-old model hasn't addressed the backlash she received over the last four years of her relationship. Until now.
Considering my pedigree in all things "Bieber" I knew I had to watch and recap the much anticipated episode. Below are the things you need to know about her episode.
But first, here's a quick recap of the Hailey/Selena/Justin saga.
Hailey and Justin's Relationship
Justin Bieber and Selena Gomez began dating in  2011, with their first "official" spotting at the Vanity Fair red carpet. Throughout their 8 year relationship, the pair embodied the trope of  "on-again/off-again."
In January of 2014, Selena Gomez checked into rehab after her recent lupus diagnosis, while Justin had many a run in with the law.
Enter a then Haley Baldwin.
In November of that same year, Justin and Hailey were spotted together on vacation, kickstarting the love triangle. For the next 4 years, Justin bounced between Hailey and Selena, before ultimately ending things officially with Selena in May of 2018.
A few months after Justin and Selena called it quits, Justin popped the question and married Hailey in a court house.
The couple had a second wedding the following year (September 2019) in South Carolina.
Now that we're caught up on the extreme reader's digest version of their relationship, let's get back to Hailey's Call Her Daddy Interview.
Call Her Daddy Recap
Justin and Hailey's Dating Timeline
One of the main criticisms of Hailey and Justin's relationship is the proximity to his break up with Selena. As aforementioned, Hailey and Justin were engaged and married soon after his final ending with Sel. This almost immediate marriage puzzled fans and left them feeling like Justin was unfaithful to Selena.
Hailey went on record to say that she and Justin were NEVER together at the same time as him and Selena. Hailey shared that she and Justin were involved since 2018, and had been friends long before that.
But still, she understands the timeline is confusing but wants fans to rest assured she would never do that to another woman. She knows the truth, he knows the truth, and that's all that matters.
"The reason we were able to get back together was because it [former relationship] was very much closed."
2021 Met Gala Heckling
During the 2021 Met Gala, videos circulated of what looked like Hailey crying and Justin consoling her. Fans later realized that hecklers were chanting "Selena" and "Jelena" as the couple posed for photos on the red carpet.
Hailey revealed on Call Her Daddy that she actually had something in her eye, and the sunglasses she donned were a part of her look, and not a defense mechanism.
"I could kind of hear it, but I didn't know if that's what was really going on until I saw the video after."
Online Bullying
Hailey shared that since her marriage, she has received a barrage of hate comments, although tapering off within the last year.
Comments ranging from how she interacts with fans, how she isn't "the one" and her being a "home wrecker."
Hailey says that although the hate is rather loud, she has received overwhelming amounts of support. Overall she is numb to the hate but wishes she could exist without the constant comparisons.
Wrap Up
While the 1 hour episode gave fans an inside look into Hailey's marriage and sex life, she maintains that her marriage with Justin Bieber is one of  the best things that's happened to her. Their marriage is "the most healthy, mature decision they could have made."
But like Hailey said many times throughout the episode, there is "the truth." We might have heard hers, but no doubt Selena Gomez's documentary would shed a light on her reality.
Unclear on how open she'll be about her relationship and break up, but we do know she had to lose him to love herself, and that's a sentiment I can totally get behind!
To watch the entire podcast episode, click here.
---