90DF And American Idol Alum Evelyn Cormier Dishes On Dating, The Reality Of Reality TV And More!
Find out which reality show Evelyn described as "manufactured."
Ashley Hoover Baker January 28, 2021 2:57pm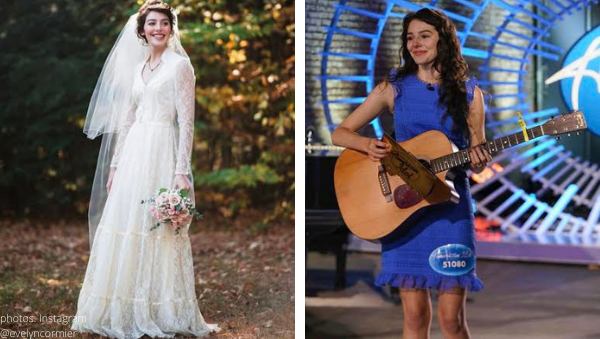 90 Day Fiancé and American Idol alumni, Evelyn Cormier, joined S'More Date creator Adam Cohen Aslatei (ACA) on episode 61 of S'More Live on Instagram to spill the tea on all things from her dating and married life to her time on reality tv and beyond!
Dating/Married life:
In between passionate gulps of her afternoon coffee, the singer/songwriter dished on her dating life BEFORE 90DF– including her worst date. Pro-tip: don't ask Evelyn out and expect her to pay. In fact, that's a pro-tip for all singles! Are you taking notes?
While you're taking notes, jot this down….
SLIP IN YOUR CRUSH'S DMS!!!
Instagram is your friend, ladies and gentlemen.
Evelyn's happily ever after began when her now-husband, David, followed her on IG- as a fan of her music. Now, prepare for a fun blast from the past…
Before sliding into a hottie's DMs was a thing, IG users had to send a photo to another user to start a direct message? (S'More Date would NEVER!)
Since Evelyn and David share mutual friends, Evelyn got the sign needed to trust her gut and give a relationship with David a try. The rest is TLC history.
90DF:
As most of us 90 Day Fiancé fans will agree, the show has a tendency to feel very, well, extreme and not always authentic. Adam got to the root of Evelyn's truth when he asked about the edit she and David got on 90DF.
"I can't speak for every couple. A lot of our drama was manufactured. It's reality tv. It's for entertainment."
"I don't judge people from reality tv because you have no idea what's going on behind the scenes, what's preplanned. But there are those crazy people as well. You just never know what's been exaggerated or what's actually wild."
American Idol:
Evelyn's stint on 90DF was the attention she needed to get noticed for one of the biggest reality competition shows on television.
A casting producer from Idol contacted the beauty after seeing her on TLC's juggernaut dating show, remembering she was a singer. After being offered a private audition showcase, Evelyn and about a dozen hand-picked prospects gave it their all before meeting the celebrity panel.
Evelyn was named Katy Perry's "most favorite voice ever" on season 17 of American Idol where she landed a spot in the top 14.
Watch the interview for yourself:
View this post on Instagram
Evelyn and David are coming back to the silver screen on Love Games, the latest addition to Discovery +. You can stream Love Games on Feb 14th.
IN CASE YOU MISSED IT…
S'More Date has become among the fastest growing dating apps… and we hear it's full of celebrity singles!!! You can also check out S'More Date on Instagram! The best part of the S'More Date app? Like the show Love Is Blind, S'More Date, builds meaningful connections between people before they see one another.
Which of Evelyn's reality tv endeavors was your favorite? Sound off in the comments!
---