Candiace Dillard Bassett Involved In Brawl With 'Friends Of' The RHOP Cast
It all went down at the party for Ashley Darby and Gizelle Bryant's active wear line...
Staff July 14, 2023 8:25am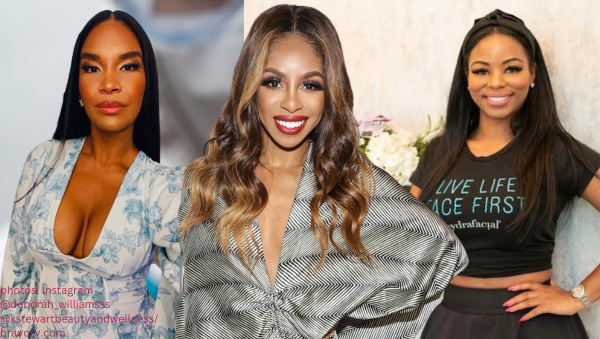 There was another physical altercation while filming Real Housewives of Potomac … this time between 'friends of' season 8's  Keiana Stewart and Deborah Williams. Yet again, Candiace Dillard Bassett got things heated up while filming the popular Real Housewives franchise.
Boots were on the ground at the launch party for Ashley Darby and Gizelle Bryant's new activewear line the night of July 13, 2023,  and spilled the tea to TV Deets.
"There was an 'all-out brawl' during filming for Season 8 of RHOP. According to our rock-solid insiders, Keiana Stewart and Deborah Williams were involved in a 'shocking' physical confrontation at the launch party with Candiace Dillard Bassett in the middle of the mayhem."
Allegedly, "Deborah and Candiace had been talking shit about each other all night."
"Candiace was confronting Deborah about what she had been saying about Chris [Bassett] and Keiana walked up and got herself involved."
"Keina-who is joining RHOP Season 8 as a friend of Wendy Osefo-was the one to throw the first punch but it was Deborah who may end up with the last laugh, according to our sources."
A Potomac insider noted, "Deborah ate Keiana up" and that "Keiana's getting involved only made things worse. Deborah definitely won."
"The brawl wasn't the only notable moment from the night, however, as another insider reveals Candiace also exchanged words with Mia."
It is unclear at this point if there will be any on-camera resolution to this fight as Deborah was only slated to attend this one event of Ashley's this season.
View this post on Instagram
What are your thoughts on another feud becoming physical on RHOP? Sound off below.
---