Britney Spears's 10 Best Performances
Did your favorite performances make this list?
Staff April 6, 2022 4:00am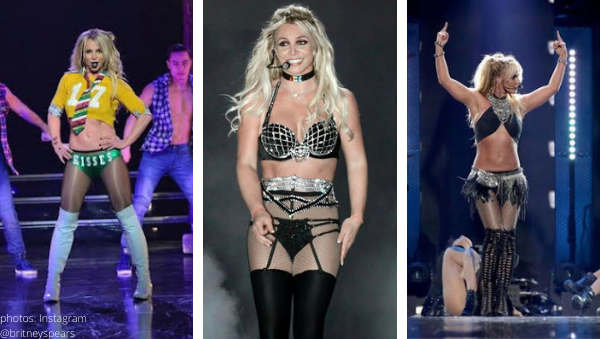 It's a best of Britney list, b!tch.
When you think of Britney Spears, sometimes The Holy Spearit's iconic music videos will jump onto your radar.
Understandable, since Godney has served us everything from sassy teen dream to Vegas vixen.
Now that Britney is free to live her best life- outside of the control of a conservatorship- let's celebrate my top ten favorite Britney performances…
10. …BaBy One More Time/ I'm A Slave 4 U
NFL Kickoff 2003
The only way to get me to care about a sports game is to bribe me with Britney.
After a slick 'baby baby baby hit me one more time baby baby hit me one more time' riff, Britney demands the crowd 'Listen,' as her dancers remove her pants- a moment I live for, almost two decades later.
Oh, just you wait for the pyrotechnics show during the 'I light that ass on fire' dance break.
Iconic.
9. Sometimes
Disney Summer Jam Concert 1999
Lifelong members of the Britney Army know Brit doesn't enjoy performing the timeless bop, Sometimes, from her debut album….so live performances are scarce.
Is it just me, or do you get the vibe Britney still enjoyed the mid-tempo song at this point in her career?!?!
Never forget the days of Brit singing live over a pre-recorded track while not dancing full out.
What a time to be alive…
8. I'm Not A Girl, Not Yet A Woman
American Music Awards 2002
Did anyone else get emotional all over again watching Lucy get rejected by her mother in the 2002 film, Crossroads?
In a since-deleted Instagram from Britney's verified account in March 2022, Britney compared her real-life mother to Kim Cattrall's character who abandoned Britney's Lucy Wagner after saying she was a "mistake" in the underrated gem co-starring Zoe Saldana, Taryn Manning, and Dan Aykroyd.
"I know … PRETTY F–KING SAD !!!"
"I mean… Psss I mean it's actually less worse than what my mom did to me in real life so
 …"
Oh, sweet Britney. She deserves so much better.
As far as this performance goes, it sounds as if the audience was served some live vocals from Brit, with her background singers joining prominently at the end of the coming of age track.
Shout out to the fringe on Britney's body-hugging nude dress serving homage to the costumes from the I'm A Slave For You video! I'm always down for a callback.
7. Stronger
American Music Awards 2001
In case this fun fact doesn't live rent-free in your mind, here ya go:
Britney co-hosted the 2001 AMAs with rapper LL Cool J, but- more importantly, provided a cultural reset when she, and then-boyfriend, the Top Ramen tendrilled vocalist from *NSYNC, arrived in coordinating denim outfits.
But, I digress…
Between the electric guitars, the 5-star pole dancing, and Brit's peak woo-ing into the mic between verses, this 'Stronger' performance makes me feel as alive as the first time I heard the lyric, 'My loneliness ain't killing me no more.'
6. …Baby One More Time
Live in Hawaii 2000
From Brit's iconic backup dancer, TJ Espinoza, to the tie-dye crop tube top/bell bottoms/sneakers combo, and the solo dance break, this is a truly unforgettable performance.
…And that's without even mentioning the classic walking upstairs gif.
5. Me Against The Music/ I Got That Boom Boom
TRL 2003
Though Madonna wasn't able to join her MATM collaborator for the TRL performance in Times Square, the Ying Yang Twins appeared to perform the underrated gem 'I Got That Boom Boom,' for the Southern boys, of course.
Is anyone else still wondering how Britney managed to keep her pants up during that performance?
4. Toxic
In The Zone 2003
Ok.
So, like, Britney invented sleeves, amirite?!?!
Now that's established, can we take a moment how completely in the zone Brit was for this special?
It's amazing how hard Britney hits when she's not being forced lithium- but that's a tale for another time…
3. …Baby One More Time/Crazy
MTV European Music Awards 1999
The vibe.
The energy.
THE TAP DANCE!
The remix.
The crowd work.
The backflip.
The smile.
Why don't people talk about this performance more?

2. I'm A Slave 4 U
Billboard Music Awards 2001
This one is going to tick many of my fellow Spearleaders off, but this is my truth.
I prefer Britney's 'Slave' performance from Las Vegas' Bellagio fountains over the (admittedly legendary) 'Slave' performance at the VMAs…
It felt good getting that off my chest. 
Not only were there no caged animals- nor any creepy cast members from Netflix's Tiger King featured in this performance- but, the unique Strip setting added an incredible element as the fountains' choreography mirrored the refined moves of the icon and her beloved dancers.
::chills::
1. (I Can't Get No) Satisfaction/ Oops!… I Did It Again
MTV VMAs 2000
Many would agree Britney's y2k VMA performance was a career-defining moment.
Much like my mom remembers where she was when the Berlin Wall came down, I remember Britney stripping herself of that black pesky pantsuit and fedora revealing the bedazzled-nude-bra-and-pants-set stopping time and space.
(deep breath)
Can we talk about this choreo?
Britney's fast footwork and signature hair-ography, paired with the song's thumping remix, shut that Radio City Music Hall down.
Once Brit's shimmy transported her into an egg-shaped orb as she began the song's second verse, a lifetime status as pop royalty had already been established.
…and that's before the rapid-fire hip gyrations heard 'round the world.
Seal this priceless performance with floorwork the VMA's hadn't seen since Madonna slithered around the stage in her 1984 Like A Virgin performance AND THAT IS A WRAP FOR MISS BRITNEY SPEARS.
Which of these choices do you agree and/or disagree with? Did I miss your favorite Britney Spears performance? Drop off your hot takes in the comments.
---