Bravo Updates: Nene Leakes Is Out; Is Snooki Polizzi In?
Nene returned her peach to Bravo as Andy Cohen toys with the idea of casting Snooki for RHONJ.
Ashley Hoover Baker September 18, 2020 12:03pm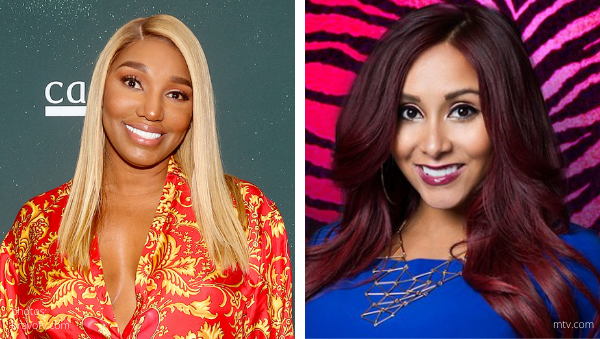 The door at Bravo becomes even more unhinged as another heavy hitter leaves the network. But, like life continues to prove, when one door closes-another opens.
Who's out?
Real Housewives of Atlanta OG, Nene Leakes, announced that she is not returning for the 13th season of Bravo's hit show. The reality tv star turned actress dropped her news YouTube channel on September 17.
"I have made the very hard and difficult decision to not be a part of Real Housewives of Atlanta Season 13," Nene explained. "It wasn't an easy decision for me. It was hard."
Nene continued, "I started on The Real Housewives of Atlanta in 2008. We took off like a rocket. I mean, we took off. You could have never told me that I [would have] starred on this little show and it still be going strong 13, 14 years later — and it is. I'm just so happy that I can say that I was a part of a genre that opened up doors for Black ensemble reality shows to step up and be a part of what we all now love so much: reality TV."
After holding a peach for the show's 1st-7th seasons, taking seasons eight and nine off, Nene returned with a vengeance for season 10 and continued as a main cast member through season 12.
Who's in?
After years of rumors circulating of Jersey Shore's Snooki Polizzi taking on a new reality role as Bravolebrity, there were talks of the self-proclaimed meatball on Live! With Kelly [Ripa] and Ryan [Seacrest] on Thursday, september 17, 2020.
Kelly recalled a personal conversation she had with her close friend, Andy Cohen, regarding the MTV starlet. According to reports from CelebMagazine.com, after Andy saw Snooki "chat about the matter on the show after seeing the rumors online made him finally take the possibility seriously. 'It legitimized it,' he admitted. 'It made me think, you know what? Maybe this isn't the worst idea.'"
According to Andy, Snooki is better suited for RHONJ now that she's older and more mature than she was when the rumors first buzzed. "She's 32, so she's in the age range. And I'm now thinking this is something to keep our eyes out for… Maybe season 12."
What are your feelings about Nene leaving RHOA and the possibility of Snooki joining the RHONJ cast? Sound off in the comments!
---