Bachelor Nation's Ben Flajnik Dishes On His Relationships With Kris Jenner And Jennifer Love Hewitt
Find out if Ben would consider taking Chris Harrison's gig and who has the Bachelor job of his dreams!
Ashley Hoover Baker March 11, 2021 12:00pm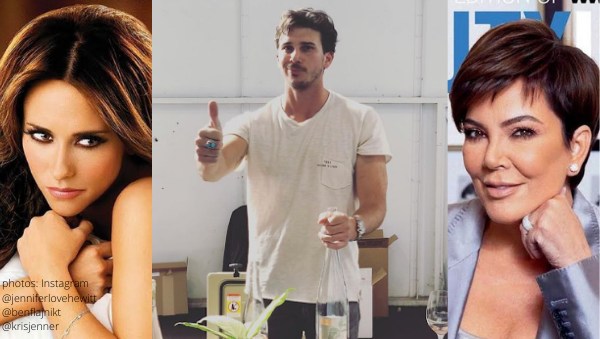 The Bachelorette 'suitor' turned The Bachelor, Ben Flajnik, joined S'More Date creator Adam Cohen Aslatei (ACA) on episode 72 of S'More Live on Instagram to talk about his relationships with Kris Jenner, actress Jennifer Love Hewitt, and the current drama in Bachelor Nation!
Kris Jenner:
If you are Keeping Up With The Kardashians, you may know Kris Jenner has a knack for keeping herself and her family in the media.
This story goes all the way back to 2013 when Ben booked as a guest on Kris's short-lived talk show, Kris.
The pair hit it off and Ben began a friendship with the iconic momager and her "really nice" famous family. "They were all very sweet to me."
Ben elaborated, "She's like, 'Here's my phone number if you're ever in LA and you need some help.'"
And, well, because it's the Kardashian/Jenner clan, paparazzi swarmed the new friends, while rumors circulated of a potential romance between Kris and Ben.
ACA got the co-founder of Envolve (a Sonoma County winery) to answer the question on our minds after all of these years, did they or didn't they?!?!
"We shared some trips and some laughs and some dinners. She's still a friend. I email her from time to time checking in to see how the Kardashian gang is. No romance, though."
Jennifer Love Hewitt:
ACA got Ben to dish on his relationship with A-list actress, Jennifer Love Hewitt explaining that his fling with 'Love' began back in 2011.
"That was all through Twitter. This was pre Instagram. It was in between the shows [The Bachelorette and The Bachelor.] Jennifer is a lovely, lovely human being and we had a few nice dates together."
When asked why things didn't work out between the wine maker and the Party of Five star, Ben explained, "The timing was off. I had already signed a contract to be The Bachelor and so there wasn't really anything I could do at that point."
Are you ready to swoon?!?!
When Ben elaborated on why he thought JLH was so "great," he detailed that she "had a really great palate." He, unlike every guy I knew growing up, never even  mentioned her breathtaking physique.
Ben detailed that he and JLH shared amazing dinners together in San Francisco during their courtship.
The real-time Bachelor Nation saga:
Ben was clear that he liked staying out of the drama in the media, but that didn't stop ACA from asking Ben about Chris Harrison taking a step back as a result of his comments during an interview with Extra TV host/attorney/former Bachelorette, Rachel Lindsay Abasolo, regarding current 'suitress' Rachael Kirkconnell attending an Antebellum party three years ago.
What Ben did mention was that he always had a good relationship with Chris- as a contestant and as the show's lead.
When asked if he would consider taking over as host of Bachelor Nation if Chris doesn't return, Ben explained that even though he doesn't think he would even be considered, he would absolutely take the job.
"That's like the best gig ever. As much as I don't want to be on television, I may actually consider it. That guy gets to travel around the world and tink a champagne flute and be polished."
Watch the interview for yourself:
You may be surprised which of Kris' daughters "was always the nicest" to Ben and who has the job in Bachelor Nation that Ben feels best suited for.
View this post on Instagram
IN CASE YOU MISSED IT…
S'More Date has become among the fastest growing dating apps… and we hear it's full of celebrity singles!!!  You can also check out S'More Date on Instagram and the S'More Date app. Like the show Love Is Blind, S'More Date builds meaningful connections between people before they see one another.
What were your feelings of Ben during his time in Bachelor Nation. Sound off in the comments!
---