Andy Cohen Dishes On RHOSLC's Jen Shah's Arrest
"I certainly hope and pray that none of it is true."
Ashley Hoover Baker April 5, 2021 3:46pm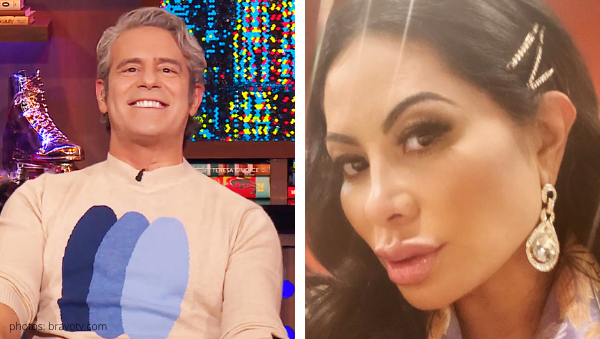 "Oy vey." –Andy Cohen
I couldn't have said it better myself….
Bravo TV's daddy is back from vacation and is not shying away from the topic on everyone's mind… the Jen Shah scandal.
During a recording of Sirius XM's Radio Andy, a caller asked if he has commented on the alleged crimes of the controversial Real Housewives of Salt Lake City star.
Andy remains hopeful:
"I'm waiting to see how it plays out," the Watch What Happens Live! host declared.
"I have nothing to add to what we already know, other than I certainly hope and pray that none of it is true."
Listen for yourself!
In case you had no access to the internet for the last week, here is a run-down of the alleged mess Jen and Stewart got themselves in.
*allegedly. Allegedly. ALLEGEDLY.*
The crime:
According to People, "Jen Shah was arrested on Tuesday alongside her assistant Stuart Smith for allegedly targeting individuals in a nationwide scheme." RHOSLC fans know Stewart as 'Jen's first assistant.'
Manhattan U.S. Attorney Audrey Strauss detailed the accusations against Shah and Smith in a press release on Tuesday, claiming that the duo "allegedly generated and sold 'lead lists' of innocent individuals for other members of their scheme to repeatedly scam," per reports from US Weekly.
"In actual reality and as alleged, the so-called business opportunities pushed on the victims by Shah, Smith, and their co-conspirators were just fraudulent schemes, motivated by greed, to steal victims' money. Now, these defendants face time in prison for their alleged crimes," the Attorney continued.
There is an audio clip floating around the internet that is rumored to be Jen- acting as Annie- preying on people with student loans. You're going to need to check this out…
View this post on Instagram
THE TIME:
According to US Weekly, "Shah and her assistant were booked on charges of conspiracy to commit wire fraud in connection with telemarketing and conspiracy to commit money laundering. They each face a maximum sentence of 30 years for the wire fraud charges and an additional 20 years for the money laundering charges."
In case you missed it:
Jen and Stewart's public arraignment was held on Friday, April 3rd via telephone- because, well- covid.
I did what any normal Bravoholic would do- called in sick for work so I could listen to the indictment hearing for myself, duh.
If you want my crude interpretation of lots of legal jargon, you can catch up here!
Do you think this recording sounds like Coach Shah's wife? Drop your opinion off in the comments!
---