NFL Wife Alexis Bawden Calls Out "Weirdo" Angelina Pavarnick for DMing Her Husband
The "dirty little hamster" from Jersey Shore was compared to "a fly on the field."
Staff September 26, 2023 11:57am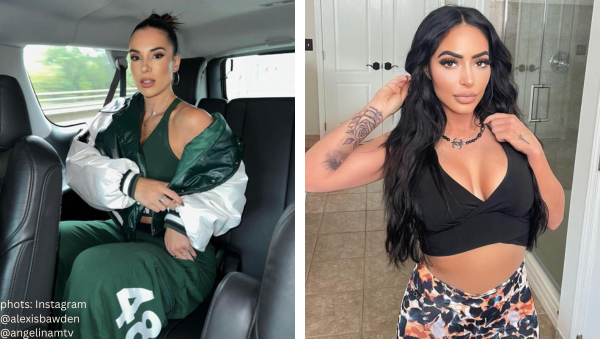 NFL wife, Alexis Bawden, called out Jersey Shore's Angelina Pavarnick for sending her husband a DM.
According to Alexis, "My husband gets a DM from this girl, Angela [Angelina] from Jersey Shore."
Angelina and her co-star, Nicole 'Snooki' Polizzi, walked past Nick Bawden's wife and chose violence … She DM'ed a married man.
"Like, 10 minutes after this chick is eyeing me on the field, ok. It's her. It's the girl from Jersey Shore."
Angelina "DMs my husband and said, 'See you soon.'"
While showing a screenshot of the direct message to the Fullback for the NY Jets, Alexis (rightfully) called Angelina a "weirdo."
She proceeded to show her husband's Instagram grid pointing out the slew of photos of Alexis and her daughter thus proving there is NO WAY Angelina didn't know Nick was in a serious relationship.
Alexis reiterated to her followers, "I just want to say if you're a fan of her, she's weird. That's weird."
"You don't message a married woman's man saying you're going to see him soon after you see his wife. Like a fly on the field, weirdo."
What do you think about the "dirty little hamster" slipping into Nick's DMs? Sound off in the comments.
---