Darcey And Stacey Silva Spill Details On 90 Day Fiance Spin Off
"I'm so excited to dive deeper into our family life."
Ashley Hoover Baker June 29, 2020 3:36pm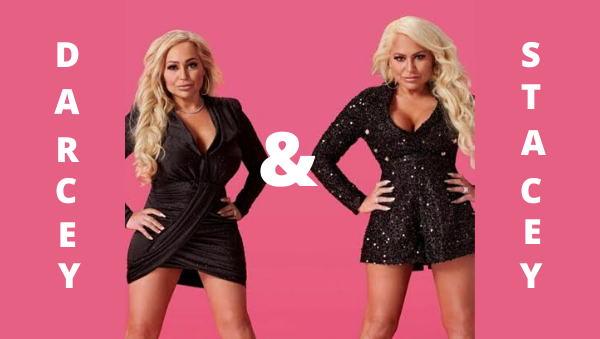 Darcey Silva and Stacey Silva spill details on their upcoming 90 Day Fiance spin off series, Darcey & Stacey. "I'm so excited to dive deeper into our family life," explained Darcey.
In an interview with Entertainment Weekly, the Silva sisters confirm the series that will focus on their family life and love.
Darcey dishes:
"I'm really super excited about the new show and very grateful to TLC." The popular reality tv star continued, "I've had a long journey with relationships and now that I've fully concluded my Jessie and Tom stories, I am finally excited about what the future holds. I am at a stage in my life where I am happy with my life and I'm staying strong for me and my daughters and my family. And I'm so excited to dive deeper into our family life on the new show, past, present, and future."
Stacey spills:
"I can't wait for audiences to meet my mom, she's a riot! She's so cute and she has so much love for everybody. We all call her Nana, and she's been so helpful to Darcey and me. Our father, the patriarch of our family, is someone we've always looked up to. It's really special that we will be able to show them off in our new show."
The supporting cast:
According to EW.com, "Darcey's daughters Aniko, 15, and Aspen, 14, on the series, her parents Mike and Nancy — who have been divorced for years but remain good friends — are making their official reality television debut."
As for sister Stacey, audiences will see her boyfriend, Florian Sukaj, as they await their nuptials within 90 days of his arrival. Stacey also noted that Florian's visa was approved. Mind you, all of this happened as rumors circulated that the Albanian born hottie was unfaithful to Stacey. Photos of Florian and another woman leaked online. Not a good look, Flo.
What about Darcey's love life?
EW.com confirmed Darcey will meet some eligible bachelors during the 90DF spin off's debut season.
"I'm always going to keep my heart open," Darcey detailed. "I love love but I've leaned back a lot as in it's better to let love come to me and not chase after anything. I'm excited to be dating while trying to find my best match. I have this vision of who the best guy for me is and I'm just waiting for him to show up."
When does Darcey & Stacey premiere?
The spin off drops on Sunday, August 16th on TLC.
Need more 90 Day Fiance content to hold you over til then?
Make sure you subscribe to the Pink Shade with Erin Martin podcast so you don't miss a single TLC recap and breakdown. Here is the most recent episode.
Which of the family members are you most excited to catch up with? Drop names in the comments!
---