90 Day Fiance's Larissa Dos Santos Lima Is Leaving Las Vegas
The Happily Ever After star accidentally dropped a spoiler regarding deportation.
Ashley Hoover Baker July 7, 2020 10:27am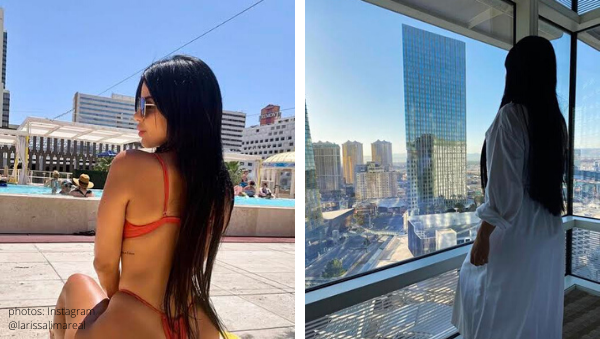 90 Day Fiance's Larissa Dos Santos Lima is Leaving Las Vegas. Larissa announced her Sin City departure on Instagram following an online conversation where she dropped a spoiler regarding her potential deportation.
Larissa's announcement:
"For everyone that always asked if I would live in another state….
Vegas was my home for almost two years but now is time for a new begging in a different state
I still love Vegas and will miss all my friends, partners and pools, I'm very happy to this choice and the opportunity to start again and left my past buried definitely on the desert sands
Very excited for this new chapter [sic]
#90dayfiance #newlife."
Larissa's accidental spoiler alert:
The Happily Ever After star posted a photo of her self clad in a plush, white robe while enjoying a 'stay-cation' at Aria Hotel and Casino in sunny Las Vegas.
In the comments, a follower asked, "Is it true she's getting deported? I hope not." Larissa answered, "liesssss."
According to The Blast, a follower responded to Larissa's post, "Well from the view I come to the conclusion that you have not been deported. When is your next court date? Larissa Dos Santos Lima did not wait to respond. 'No court dates,' she said." An additional follower commented, "I guess you didn't get deported (how show ended last night) thank goodness!"
"When another fan teased that Larissa Dos Santos Lima just dropped a 'spoiler alert,' she laughed. 'Oh yeah I didn't watched last episode,' the star admitted," per The Blast.
Need more 90DF in your life?
The Taste of Reality team has your back! Subscribe to the Pink Shade with Erin Martin podcast for weekly Happily Ever After recaps! Here is Erin's latest hysterical episode!
Still want more?
Follow @OnThisDayEntertainment on Instagram for weekly 90DF: Happily Ever After IG live streams every Tuesday from 5:30-6pm PST!
Any predictions as to where the self-titled 'Queen' will relocate? Drop your guesses off in the comments!
---