90 Day Fiance's Larissa Dos Santos Lima FIRED After CamSoda Show
Fans call TLC out for their sexist double standards.
Ashley Hoover Baker September 26, 2020 4:47pm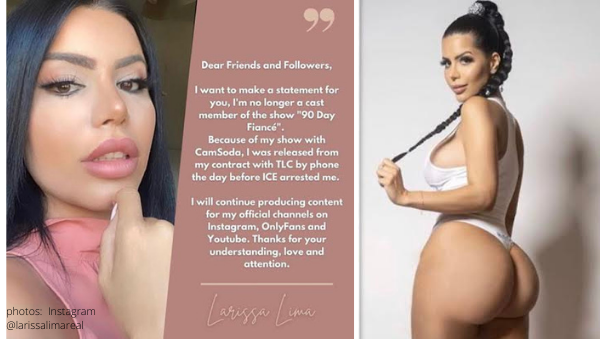 "Who is against the queen will die." Someone should tell the suits at TLC to watch their back, as self-appointed queen Larissa Dos Santos Lima has been ditched by TLC. I think it's safe to say Larissa is pissed-offee….
Colt 'Coltee' Johnson's ex-wife took to Instagram to share her news. "Dear Friends and Followers, I want to make a statement for you, I'm no longer a cast member of the show 90 Day Fiancé. Because of my show with CamSoda, I was released from my contract with TLC by phone the day before ICE arrested me. I will continue producing content for my official channels on Instagram, OnlyFans and Youtube. Thanks for your understanding, love and attention."
What are CamSoda and OnlyFans?
Yes, I googled this so you won't have to explain your search history.
You're welcome.
CamSoda is a website that offers live sex cams, adult webcams, live porn, and more. OnlyFans is a subscription service that is popular with sex workers, fitness experts, musicians and other creators.
Just so you know, Larissa has created content on Only Fans for months now- even naming her price to do porn. This week, Larissa performed an adult lingerie webcam show for CamSoda which got her a $100K payday for an hour-long performance.
90 Day Fiancé fans react to Larissa's firing:
After the remarkable success of Larissa's CamSoda show, fans were quick to share their disgust with the reality tv star on social media. That's why I was surprised that so many commented their support for Larissa after her termination.
It was frequently noted that TLC has a double standard when it came to the network's reality stars who choose to create content for the risqué websites previously mentioned.
I'm not a fan of Larissa whatsoever but why was she fired for being on camsoda, meanwhile many other cast members are on only fans? It's not any different!!! 🙄🤦🏼‍♀️🙄🤦🏼‍♀️@TLC this doesn't make any sense. #90DayFiance

— ЅωαуЅнαу (@SwayShay) September 26, 2020
Instagram's @astrologybybravo commented, "this shit infuriates me. are they gonna fire everyone with an onlyfans? cam girls = BAD but they don't even vet people enough that someone like Geoffrey made it on the show likeeeeeeee????" Another wrote, "So all the other ones can have only fans but she can't? Weird."
@TLC y'all really cancelled Larissa for appearing on camsoda, but Colt, Eric, and Jesse can have pornographic OnlyFans? How sexist is that?

— Velociraptor Anarchist Biden Graffiti (@badvelociraptor) September 26, 2020
"I don't understand how everyone else can be on only fans and you tube and this isn't ok 🤷🏼‍♀️," commented a 90DF fan on the 'gram, while another predicts TLC will come crawling back. "When Larissa gets bigger on OF/Cam Soda, TLC gonna be calling her wanting some 90 day spinoff with her and Eric-ee 😆😂 I only watched 90 day for Larissa pretty much LOL."
Being that this is the internet, others wanted to remind you that they hate the Brazilian bombshell.
I'm glad that Larissa was fired from #90DayFiance @TLC

— Bria 💋 (@princessleona29) September 26, 2020
Well @90DayFianceCast @90DayFiance I see that that #golddigger #Larissa who just leaves her children in Brazil while she gets boob jobs and and does nothing but sell her ass on #camsoda finally got fired from the show now she needs her ass sent back to Brazil

— ᑕℍЯᎥᔕ Ᏸ⚙УᎠ (@Tammy12Step) September 26, 2020
Want more Larissa in your life?
I attended Larissa and Colt's divorce parties last year. Here is the On This Day Entertainment podcast I recorded breaking down both nights!
Do you think Larissa will remain relevant without being featured weekly on 90DF? Sound off in the comments!
---